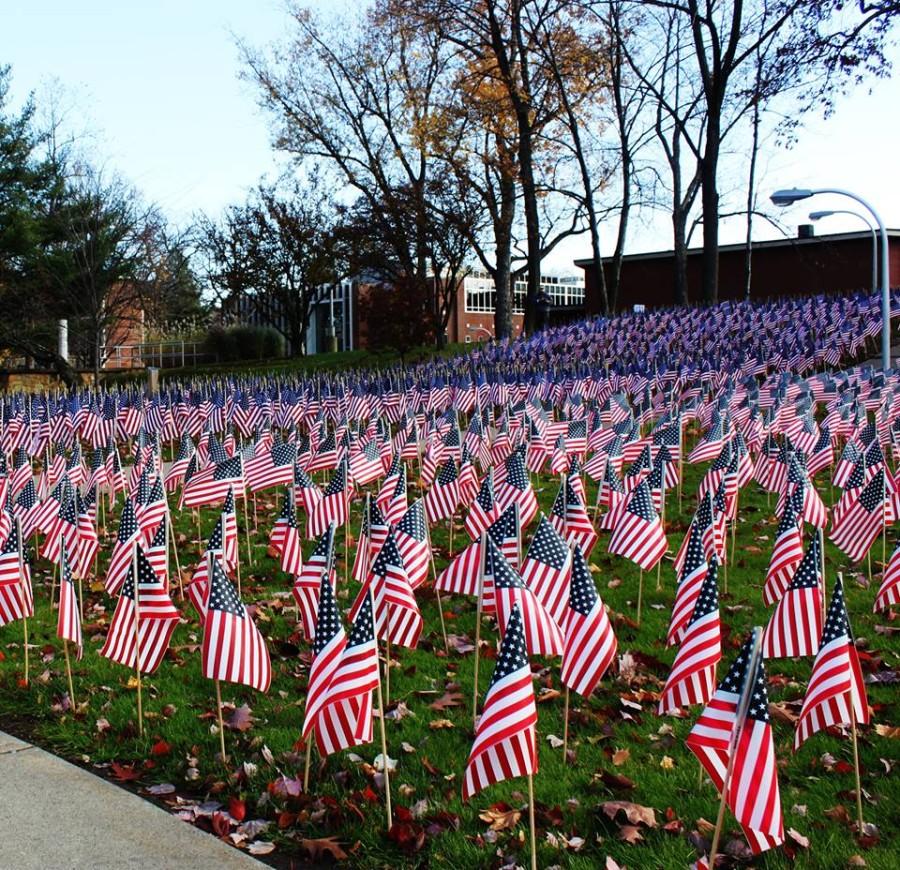 The Office of Military and Veteran Services and the Student Veteran Alliance (SVA) lead activities to honor veterans across the country and in the Marywood community today.
SVA members placed flags outside of the Liberal Arts Center in remembrance of soldiers who have died in the Iraq and Afghan wars. Last year's display included 6,600 flags. This year, that number increased to 6,746 flags.
"It's not just these flags for the fallen from our current wars, but the flags to represent all the fallen that we've lost over the years," said Lauren Williams, director of the Office of Military and Veteran Services, who sang the National Anthem to start the event.
Also at the event, Marywood Cadets from the University of Scranton Royal Warrior Battalion provided the Color Guard, presenting flags while marching in uniform. Marywood's trumpeters played "Echo Taps" and other patriotic music and Rod Merkley led a moment of silence at 11:00 a.m.
The Rotunda inside of the Liberal Arts Center hosted an interactive wall that was created by a group of junior architecture students. The Marywood community was encouraged to write on the wall to honor past and present veterans or to just say thanks for serving.
There are currently more than 90 active military, veterans and family members of veterans studying at Marywood.
"It's great to really feel supported here on campus," said Rob Merkley, 2nd Lt. and graduate student in psychology. "We've had a few events throughout the last few days and overall Marywood has just really opened up their arms and been really accepting of us, so it's been great."