St. Patty's Day in Scranton!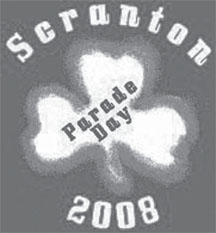 By Christine Lauff
Staff Writer
On Saturday, March 15th, the 46th Annual Scranton St. Patrick's Day Parade will begin at 11:45 a.m. This year it is being held in memory of Tim Cummings, Donald Regan and Monsignor Andrew McGowan. The parade will start on Wyoming Avenue and proceed to Lackawanna Avenue, Jefferson Avenue and Spruce Street and finally will come to an end on North Washington Avenue.
The first St. Patrick's Day Parade was held in 1962 by the Parade Association of Lackawanna County. Scranton's celebration has become the fourth largest St. Patrick's Day Parade in the United States, setting a record of 100,000 attending in 2003.
Approximately 5,000 people take part in the parade as Irish dancers, bagpipers, musicians or as members of high school marching bands as well as other local groups.
While this parade is accredited with attracting thousands of tourists to Scranton each year, as well as providing a great time for parade lovers in the area, it has not done so without a price.
The most common problem associated with the parade is public drunkenness and there have been some complaints concerning the opening hours for the bars, many of which begin serving alcohol as early as 7 a.m.
One Irish Scranton native commented on the parade, implying that the city is hypocritical for passing a smoking ban in order to improve public health, while allowing what he sees as an "all day drunkfest", to take over the streets. However, police are stationed throughout the parade area to keep order during and after the festivities.
The parade is a way for many Irish-Americans to remember and celebrate their proud heritage. In Dublin, St. Patrick's Day is celebrated from March 13th to the 17th with approximately 1,000,000 people attending and performing in their own parade and events similar to those which will be taking place in Scranton.
Keeping all this in mind, it is most important to remember to enjoy the local festivities this Saint Patrick's day, but be safe! Marywood wants us all back safe and sound after our spring break.