The Man Behind the TV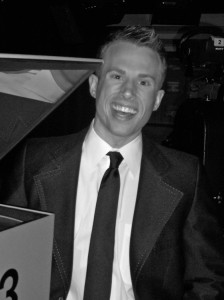 By Tony Calvario
Staff Writer
For this article I decided to interview Ryan Leckey from WNEP. Leckey is a reporter for the station and I always wondered how he obtained such an exciting job, and at such a young age. As a matter of interest, I am impressed with his skills and the way he is able to convey emotion with his stories. So, I felt he was the perfect person to have an interview with.
One of my first questions was how did he fall into this line of work? He said, "This has always been a passion of mine and I wanted to do something exciting."
I then asked him what he would be doing if he did not get into this field. He replied, "Probably work in an ER." Basically, Leckey is all about not wanting to have to do the same thing twice. I would say that is a great career ambition for anyone to have.
Of course, I wanted to know about Leckey's education. He holds a bachelor's degree in Communications from the University of Pittsburgh, and has received his master's degree in Communication Arts, with a concentration in Media Management, from Marywood University. He said, "Despite what a lot of people think, you don't exactly need a broadcast journalism or broadcast media degree to get a gig in TV. Nowadays you will need a bachelor's degree, but honestly, journalists in big markets have all different types of degrees. Some stations hire people with different degrees in order to get people who are more skilled in a certain background to cover those types of stories." Also, he stated that much of his training came from just working at the station, apparently there is nothing like learning things on your own.
What's a typical day like for Leckey? He said, "There's no such thing as a normal day."
Everyday is different from the last. This, as we have learned, is why he loves what he does. I was curious to know what he felt was the oddest story he has had to cover. However, I came to find that he felt none of the stories were odd, rather they were all exciting in some way, and created a learning experience.
His WNEP job was not as easy to get as you may think. Leckey worked for a local station at his hometown of Johnstown. After sending out over 80 resumes and tapes he landed three offers, and ended up at WNEP. He joined the station as a reporter in September 2005. He now works in the mornings and at noon, as well as on the weekends.
He told me that he does not find it hard to balance a personal life with a crazy work schedule. In his spare time he likes to hit the gym, eat sushi (especially at Osaka), and spend time with his friends. As far as his career goals are concerned, he is not gunning to be an anchor quite yet. But, he said he would love to sometime down the road.
Toward the end of the interview, I wanted to be a bit more comical, so I asked him, "If you and I went to a concert whom would we go see?" His first response was Daughtry, but also Stevie Nicks was an option. He says he has a very diverse range of musical tastes. This also reflects his movie tastes as well.
In conclusion, I enjoyed spending time with Leckey. He was easy to talk to and gave great responses to my questions. Well, one would hope so considering he is a reporter.