Filmmaker Magic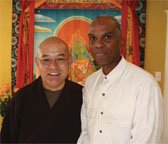 By Lauren Tyrrell
Editor-in-Chief
Think movies can only come from Hollywood? Think again – Dr. Douglas Lawrence, chairperson of the communication arts department/director of the digital media program at Marywood, proves that true art doesn't need Tinsel Town in order to make headlines.
Lawrence's Sacred Rituals: a Journey of Celebrations premiered on Friday, April 18 at a private screening in the Comerford Theater.
"It is a short documentary that focuses on the ways that people celebrate worship using rituals…it's how people use music, dance, song, prayer," Lawrence explained. He focuses on the worship ceremonies at the center of these rituals, though the film also includes rites not limited to religious contexts.
"I did not want the sermons and the preaching," he said, "because that's like the philosophy. I'm not interested as a filmmaker and also as a musician in preaching and philosophy. I'm interested in people exploring art and culture. And as a communicator, I'm interested in diverse opinions about art and culture."
As the writer, producer, and director, Lawrence selected various ceremonies from the Afro Centric, Buddhist, Catholic, Christian, Hindu, Islamic, Jewish, and Native American religions. For example, he spoke to Losang Samten, the "right hand man" of the Dalai Lama and the founder of the Tibetan Buddhist Center. Other features include a minyan at Temple Israel in Scranton and obtained footage of the dervishes in Turkey as a Hindu ritual and of the hundreds of thousands of pilgrims to Mecca as an Islamic ritual.
Lawrence merged these various ceremonies with "a very specific look – colorful, not just dry, talking heads in offices," he said. "The setting in which I interviewed everybody has some kind of ambiance."
Achieving that ambiance, he found, was a "learning experience…There was a shoot I did in New York," he said, "I wasn't pleased with the images…so I had to go back to New York, get the person again, ask her if she'd do it again. And we were filming it in her store, she has a Tibetan store. It was on a Saturday, and people were coming in and out of her store, we had to set up the equipment…it was one of the hardest shoots. And we had to catch these points when no one was in the store and the moment we would shoot something, the bells on the door would ring and she'd have to stop."
Despite hassles like this, Lawrence could not emphasize enough the positive experiences of his project, which he said were "definitely, without question, the people I met and the things I learned. For me, a documentary done right is also a research project. And with any research project, the joy is getting to the end and discovering all the things you didn't know or confirm what you did know.
"For me this is more like an experience. One day I'm in the Jewish synagogue at 8:30 a.m. at a minyan, wearing a yamaka, and the next thing I'm in a Hindu temple with all this fire and chanting. That was a beautiful experience."
What comes next for this accomplished musician, composer, and professor? "I'm not doing another film for a while – just kidding," he joked. "It's inspired me to want to continue making films and to explore different genres…inspired my filmmaking from beginning to end.
I'm excited now to see what my next project is going to be."