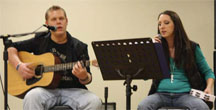 By Angel Fuller
Staff Writer
Marywood's radio station, WVMW-FM, hosted a band showcase in early November. Fifty percent of the profits made were donated to Marywood's Campus Ministry to help with their International Service trip to Guatemala. Seven bands from all over came to perform at the showcase. The lineup included Dave Evans and Rebecca May, Jeff Wallace, Feety Pajamas, Me and Chris Idell Band, Skooma, Secret Agent, and the headline Shatter My World.
The opening act, Dave and Rebecca (a senior at Marywood) played acoustic versions of many top hit songs from the 90's up to current hits. Some songs included I'm Yours by Jason Mraz, Wonderwall by Oasis, I Kissed a Girl by Katy Perry, and Free Falling by Tom Petty. The duo had a unique way of mixing the songs and the singing. Not only does Rebecca perform with Dave, she also performs with a local band Echoes Awaken. To hear more of Rebecca's unique voice and her band, check out their Myspace at www.myspace.com/echoes awaken.
Story continues below advertisement
The second act of the evening was Jeff Wallace who traveled from Philadelphia to perform at Marywood. Jeff wrote most of the songs himself. He's been writing songs since the eighth grade. Not only did he perform his original songs, Jeff also did covers such as Sunday Drive and Ever So Sweet by Early November. Some of Jeff's original songs included I Want You to Know, Show Me Lord, and Let this be True. To hear more of Jeff Wallace and to download his free demo, visit www.myspace. com/truevinemusicnj.
Following Jeff's amazing solo performance was Marywood's own Feety Pajamas. Most of Feety Pajamas songs for their cd were recorded on Marywood University Campus in the Media Center. Their songs are all original, including a song called Feety Pajamas which was strictly written about their name and not wanting to be called Feety Pajamas.
The following performance was one of my favorites of the night, Me and Chris Idell Band from Bridgewater, New Jersey. Not only were all the songs original, they were very creative and entertaining. Some of their songs included No Tengo los hombros, (which was composed of every Spanish word they had learned in school), Urbanism Girl, Open Mick, and The Heaven. The bands humor not only shown through their songs and their performance but it was also through their personalities. The band expressed that they enjoy 2 1⁄2 hour car rides after a 3 hour train ride, which they took to come to Marywood. Interested in hearing more of the one-of-a- kind band? Visit www.myspace. com/meandchrisidellband
Me and Chris Idell Band was a tough act to follow. However, Skooma did a fantastic job. Skooma are from Binghamton, New York and have a very metal sound. Although they are still looking for a singer their instrumental music was very entertaining. Their original songs included Green tea with Envy and The Lives. Skooma said they were willing to play anywhere at anytime and hopefully Marywood can have them back. For more on Skooma visit www.myspace.com/ skoomaband.
Following Skooma was Secret Agent, Marywood University's own Dan Miller's band. Secret Agent was very metal and very catchy. They play their own original music featuring songs such as Sunsetter, Mexicola, and A Song for the Dead. Check out Secret Agent's Myspace for more information. www.myspace.com/ secretagentband.
The last show of the night was headliner Shatter My World. Shatter My World is a local band from Wilkes Barre. From their exceptional music skills to their unique hairstyles, Shatter My World is an extraordinary band who writes and performs their own songs. Some songs include Fade, What Are You Afraid Of, Don't Let Go, and Hallow. Not only do they perform their own songs, but they also do covers from bands such as Bullet for My Valentine, Sugar Hill, and Killswitch Engage. To hear more of Shatter My World or to find out where you can watch them perform next make sure to check out their Myspace at www. myspace.com/shattermyworldpa.
VMFM's showcase was an over all success and station manager Marie Leopardo did an amazing job not only preparing for two months for it but also finding all the great bands to play for it. Make sure to check out all the bands and listen to VMFM for future showcases at Marywood.