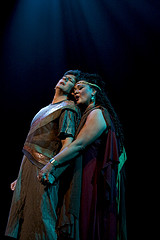 Image by Daniel Greene via Flickr
By Mandy Boyle
Advertising Sales Manager/Entertainment Editor
Prior to February 28th, I had never been to an opera before. However, over the course of several years involved in various music camps, I became acquainted with many pieces by several composers known for operatic excellence. Having found them beautiful, I decided it would be a great experience to actually try to see one when it came to the local region. I got my chance at the F.M. Kirby Center during the last weekend of February.
Presented by Teatro Lirico D'Europa, a world-acclaimed international opera company, Giuseppe Verdi's Aida was an impressive production that brought forth high caliber quality to the Northeastern Pennsylvania region.
Set in ancient Egypt, Aida tells the story of a love triangle involving Amneris, the pharaoh's daughter, her slave Aida – an Ethiopian princess in disguise, and the young military hero Radames as Ethiopia and Egypt are engaged in a fierce war. Forced to choose between devotion to country, passionate love, and the responsibility to family, each character faces great struggles in this four-act story of political intrigue, love, betrayal, jealousy and ultimate sacrifice.
The Teatro Lirico D'Europa production was very impressive in terms of both vocal talent and set construction. The stage was very grand, featuring monumental statues and a backdrop of the Nile that was positively beautiful. Each and every one of the actors was well suited for the role in terms of vocal talent, delivering powerful vocal performances that accented Verdi's gorgeous composition.
However, amongst the tremendous vocal talent and beautiful set, I found issue with the cast's ability to convey emotion throughout the first and second acts. The first half of the opera, I felt, was incredibly lackluster as the actors seemed bored, disinterested, and not very empowering in their roles. Not to mention, several of the actors were cast entirely too old for their roles, making them seem less believable. It wasn't until the climactic third act that the cast redeemed itself, delivering a powerhouse performance that is the turning point of the entire opera.
The costumes were also not much to write home about, as Radames' ensemble made him look more Roman than anything and the chorus often wore, very noticeably, white undershirts as part of their ensemble. Also, I noticed members of the chorus wearing regular tennis socks when dressed as Egyptian priests. Not so convincing, but amusing to see. I often wondered if the ancient Egyptian priesthood wore Gold Toes.
The production was subtitled as well (to bridge the language barrier of Verdi's composition in Italian and our native English) but unfortunately whoever was running the projector fell several lines behind and sometimes skipped several lines of dialogue entirely. After the first act, I chose not to read the subtitles and to instead play closer attention to the inflection in the actor's voices and to their overall performances to see if they were conveying the story as described in the program. It wasn't too difficult to follow despite my very limited experience with Italian.
Overall, I felt the production was successful in its ability to do the music of Verdi justice, as each soloist delivered brilliantly in vocals, despite the seemed lack of acting talent in the first two acts. In addition, I consider my attendance to be a valuable experience, especially because I had never been to an opera before.
As a cultural event, opera has a great ability to bring classical musical compositions to life, as each solo blossoms into an emotive scene that tells a compelling story. Had it been another company performing Aida, I may have felt differently concerning the overall quality of production; and while I felt the tickets were a bit out of range for students, attending an opera should be something that everyone tries once. Seeing the art of theatre and music combined together in a centuries old tradition of art is something worth appreciating.