Ain't No Party Like a Scranton Party!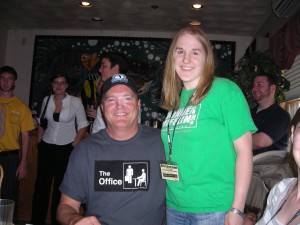 By Amanda Toth
Editor-in-Chief
I'm going to go out on a limb and say that just about every Marywood student has heard of The Office. For those that haven't, it's a comedy on NBC about Michael Scott, a Regional Manager of mid-sized paper company Dunder Mifflin, and his team of paper-selling misfits.
The show is important to Scranton because Scott's branch of Dunder Mifflin is located in Scranton. The show has done wonders for Scranton, virtually putting it back on the map after the fall of the coal mining industry knocked it off. Various city businesses have been repeatedly mentioned on the show, including the Mall at Steamtown, the Lackawanna County Coal Mine Tour, and Poor Richard's Pub. The most notable of these is Cooper's Seafood House, which has also been used in exterior shots.
This past summer, the organizers of the 2007 Office Convention offered weekly bus tours of Scranton, taking Office fans around town to see these oft-mentioned places made famous by the show.
For $35, a fan gets a four-hour tour of such sites as Farley's; City Hall; the University of Scranton, which hosted the convention; Alfredo's Pizza; and the Radisson Lackawanna Station hotel. The bus also makes a stop at Lake Scranton so the fans can get their pictures taken in front of the lake. The price also includes a lunch at Cooper's, complete with beet salad, and drinks at Poor Richard's.
And, best of all, the tours sometimes have special guests—the cast members themselves. On July 25, Melora Hardin, who plays the psychotic Jan and who was in Scranton to promote a new film, joined tour-goers. The following weekend, when I took the tour, Bobby Ray Shafer, who plays Bob Vance of Vance Refrigeration, came along for the ride. He was very down-to-earth, taking pictures and signing autographs, and just added to the fun and excitement.
Even as an avid Office fan who owns every season on DVD, both trivia games, and a Dwight Schrute bobblehead, I was quite impressed with the tour. Despite being familiar with the area, I still learned a lot about it. For instance, one of the show's head honchos received only one Valentine's Day card one year growing up, and remembered that the card's maker was Paper Magic, which is headquartered in Scranton. This is one of the reasons why Scranton was picked to be the show's locale.
The tour guides were very enthusiastic and knowledgeable, and the fifteen-minute trip to Lake Scranton was made enjoyable by playing a trivia game for Schrute Bucks. Those of you familiar with the "Beach Games" episode in Season 3 will remember that the gang traveled to Lake Scranton and played several games, including an egg-carrying race, where they had to be the first to cross the finish line while carrying an egg on a spoon. If you take this trip, you too will be able to try this.
The $35 fee (or $25 for those under the age of 21) may seem like a lot, but given all the food (two drinks, beet salad, French fries, an appetizer, a sandwich, and a dessert) and souvenirs (including convention programs, key chains, and a Cooper's pirate hat) it covers, it's a steal.
The tours have been so popular that they have been extended through next summer, occurring the second Saturday of every month instead of on a weekly basis. In addition, USA Today recently ran a story about the tours. The added attention can only help Scranton and boost its tourism income, and generate interest in a second convention, certainly a cash cow for the city.
For more information, or to make reservations, visit www.theofficeconvention.com.