American Idols Shine on Stage Not Just On Screen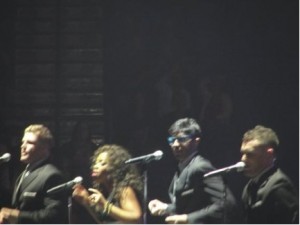 By Anne Marie Coar
Staff Writer
With Simon Cowell nowhere in sight, the Season 8 American Idols could bear their all on stage without fear of hearing "absolutely horrible" in a sour British accent.
The contestants on America's most popular reality show performed to a mostly packed crowd at Wachovia Arena in Wilkes-Barre on Wednesday, September 9.
Tenth-place finisher Michael Sarver proved to be a great opener for the concert.  He got much of the audience on their feet with energetic renditions of Gavin DeGraw's "In Love With a Girl" and Ne-Yo's "Closer."
The tempo dropped slightly when Megan Corkery performed "Tears Dry on Their Own" by Amy Winehouse.  Corkery, sporting a blond Afro and a short, tight fuchsia dress, was a good sport however, shouting out to the few audience members who were up out of their seats and dancing.
Scott MacIntyre drew laughs when he mentioned "the high five seen around the world," in reference to the moment after he found out he had made it through to the Hollywood round of American Idol.  Ryan Seacrest held up his hand to high five MacIntyre, only to realize the blind contestant would not be able to see it.  Seacrest quickly grabbed MacIntyre's hand and held it up, and the two were able to complete the gesture.  The piano man closed his set with a beautiful version of Vanessa Carlton's "A Thousand Miles."
Lil Rounds, channeling Mary G. Blige, came out singing "Be Without You," followed by "Just Fine."  She broke out some Beyoncé dance moves (doubly impressive because she was wearing extremely high, sparkly platform shoes) with "Single Ladies (Put a Ring on It)."
Anoop Desai then took command of the stage, displaying stunning vocals with "Always on My Mind." He next performed Ne-Yo's "Mad," which would have caused even the R&B superstar to take note.  Desai then stepped it up again, pulling out some smooth moves and beckoning the crowd onto their feet with Bobby Brown's "My Prerogative."
Matt Giraud kept the energy up with an animated and crowd-pleasing "Hard to Handle," then sat down at the piano for a soulful "Georgia" and The Fray's popular "You Found Me."
Idols ten through six reemerged for a medley of songs, the highlight and closer of the first act being "Beggin'," with lead vocals by Desai and help from Giraud, Sarver, and MacIntyre.
Allison Iraheta seemed to shout rather than sing Pink's "So What," but more than made up for it with killer vocals on "Cry Baby."  And she rocked the stage like a pro with Heart's "Barracuda."
Danny Gokey paid tribute to the King of Pop with "P.Y.T."  He showed off his goofy, fun-loving personality during "Maria Maria" with some salsa steps, which wouldn't have earned him a ten on Dancing with the Stars, but nonetheless elicited many cheers from the crowd.  After a heartfelt "What Hurts the Most," Gokey ended with the inspirational "My Wish," which evoked much swaying and arm-waving in the audience.
Amid almost deafening cheers and screams, Adam Lambert, runner-up and obvious fan favorite, emerged from the back of the stage and worked the microphone with Led Zeppelin's "Whole Lotta Love." He later slowed things down with "Mad World," a song he performed on the show that received much praise from both the judges and fans alike.  He then invited Iraheta back to the stage for a rocking "Slow Ride" duet.  Lambert kept the audience on their feet, clapping and dancing with his closing David Bowie medley.
American Idol winner Kris Allen, though visibly sick and exhausted, managed to show why he won the reality competition.  He jammed out with his guitar for his own interpretation of Kanye West's "Heartless," then pleased the crowd with the Killers' "All These Things That I've Done."  The multi-talented idol went to the piano for "Ain't No Sunshine" and got much of the audience singing along to "Hey Jude."
The night was all about the music, although the idols each spoke briefly in the middle of their sets.  Most thanked the fans for voting throughout the season, acknowledging they wouldn't be here today with the fans' tremendous support.
All of the idols returned to the stage for a group performance of "Don't Stop Believin'," which resulted in a standing ovation from virtually everyone in the arena, proving these small town girls and city boys definitely have a reason to keep believing.