Looking for Something To Do This Weekend?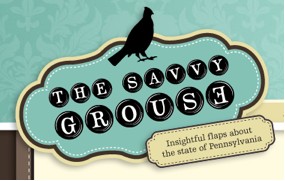 By Mandy Boyle
Advertising Sales Manager/Entertainment Editor
Chances are, if you're like most students, you'd like to get out and have a little fun this weekend. But what if you're not from Scranton? What if you're not sure where to go? What if you're strapped for cash and don't feel like heading over to the Steamtown Mall for the 15th time this semester? While I might not be able to help you out with your lack of funds and sense of direction, I can however point you to a new and interesting blog that is helping visitors to the Keystone State find their way around.
The Savvy Grouse (http://www.savvygrouse.com) is a blog for Pennsylvanians and "out-of-staters" who need a little guidance when it comes time to plan a day trip or find out about what's going on in their area. Packed with posts on restaurants, fairs, festivals, exhibits, state parks, and more, this blog is a must-see resource for students that need some inspiration when the weekend looks like it's going to be spent in the dorms –again. Organized by cities and towns, family, history and heritage, food and drink, green, inside, and outside, The Savvy Grouse acts as your compass for planning exciting day trips and other occasions when you find yourself with some extra free time.
Run by the Pennsylvania Department of Tourism and filled with blog posts and articles by real Pennsylvanians (including myself) from various regions around the state, The Savvy Grouse gives an insider's view on what's great to do when you're looking to explore. According to the site, "It's not a tourism brochure. It's the unedited inside scoop from people who know a thing or two about the Keystone State. Whether you're looking for a vacation destination or a good laugh, you've come to the right place."
It's true. The grouse can be your guide to an exciting weekend in or outside the Electric City. Give it a glance and see what you can plan for this weekend.