Fox Debuts "Glee"ful Show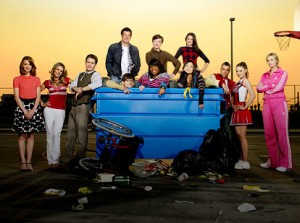 By Amanda Toth
Editor-in-Chief
Given the popularity of High School Musical, it is no surprise that Fox's new musical comedy, "Glee," has also become a hit. Over 7 million people tuned in to watch its September 9 premiere, causing it to win its time slot in the key 18-49 demographic. While "America's Got Talent" bested it for total number of viewers, "Glee" had more young adult viewers. Moreover, it gave Fox its highest scripted premiere rating in two years.
But "Glee" is not as upbeat as High School Musical, touching on serious topics such as drug abuse and teen pregnancy. In several episodes, drugs are used to manipulate Finn into joining Glee, to make students more productive, and to make bake sale cupcakes more appealing.
The story takes place at McKinley High School in Lima, Ohio, where Spanish teacher Will Schuester wants to resurrect the Glee club. He holds auditions, which attract Rachel, an aspiring starlet; Mercedes, a diva; Tina, who has a stuttering problem; and Kurt, who comes out of the closet a few episodes later. The initial group is rounded out by Artie, an electric guitar-playing paraplegic.
In order to get more members, Will has to recruit more members. He tricks quarterback Finn into joining after framing him for marijuana possession. Other popular students join as well, including Puck, Finn's best friend and football teammate, and Quinn, Finn's girlfriend and captain of the cheerleading squad, who joins only to keep an eye on Finn.
Finn then finds out Quinn, the head of the Celibacy Club, is pregnant. Unknown to him, the baby's father is Puck, not him.
Will's personal life is no picnic, either. When his airhead wife, Terri, finds out she is not actually pregnant, she fakes a pregnancy, blackmailing her OB/GYN into assisting her. In addition, Will is fighting romantic feelings for the obsessive-compulsive guidance counselor, Emma. When she realizes she doesn't have a chance with Will, she reluctantly agrees to marry Ken, the repulsive football coach. Rounding out the staff are the abrasive and inconsiderate cheerleader coach Sue, and the easily manipulated Principal Figgins.
My favorite part of the show is not the plot, but the music. The musical selections are neatly woven into the story line, such as when the students sing "Keep Holding On" after pregnant Quinn is kicked off the cheerleading team. In addition, there is no lack of talent, especially from Lea Michele (Rachel), who belts out a powerful rendition of "On My Own" from Les Miserables and Chris Colfer (Kurt) who is very impressive in singing "Defying Gravity" from Wicked, a part reserved for a woman.
On top of the solo pieces, the harmonizing in songs like Queen's "Somebody to Love" and Bill Withers' "Lean on Me" is astounding. Range of music is no issue either, as they have covered songs in every genre from Sisqo's "Thong Song" and Kanye West's "Gold Digger" to Neil Diamond's "Sweet Caroline" and "Endless Love" by Diana Ross and Lionel Richie. This makes the show appeal to Baby Boomers and college students alike.
Even the recording industry is getting into the show, with some artists like Rhianna and Billy Joel offering their songs for free or reduced rates. Madonna has even donated rights to her entire catalog, and an upcoming episode will feature only her songs.
Another great part of the show is how realistic it is. When Rachel consistently gets the solos, Mercedes turns into a diva, yelling at Will to give her the part. Given the level of hormones in most high schools, this would be more likely to happen than if Mercedes were to just accept her lack of leading lady roles. Instead of sugarcoating her reaction like a cheesy Disney movie, the writers wrote the show like it would happen.
In addition, there is no lack of diversity. The show's cast is a wide variety of shapes, sizes, and colors, as well as a character who stutters and another who is wheelchair-bound. The diversity feels natural and not forced, as in many other television shows and movies where tokenism is obvious.
The show has a heavy web presence, with Facebook and Twitter pages for the main cast members and the characters themselves. Several times a week, the fan page is updated with behind-the-scene sneak peeks and episode previews. Every song featured on the show is even posted on iTunes for download, available as singles or as a soundtrack. (Volume 1, featuring 17 songs, was released on November 3. Volume 2, scheduled for a December 8 release is now available for pre-order). The music is getting so popular that the soundtrack has consistently been in the Top Albums list on iTunes.
Another unique marketing concept was the spring airing of the show's pilot. The first episode was aired May 19, and two singles were released over the summer to generate buzz for the show. This got viewers talking about and excited for the show before it even officially premiered.
Between the innovative marketing techniques, the enthralling singing, and the funny yet dramatic plot lines, "Glee" will get even non-musical fans singing and dancing.