Maroon 5 back with "Hands All Over"
by Amber Mohrmann
Staff Writer
Maroon 5 is back with their third studio album "Hands All Over". Produced by Robert "Mutt" Lange, the man behind AC/DC's "Back in Black," Shania Twain's "Come on Over," and many other famous albums, the album delivers a slightly different sound than the typical Maroon 5 sound. The band's unique sound is kept intact while experiencing other genres.
The first track, "Misery," sounds just like a typical Maroon 5 song. Adam Levine's distinctive voice is once again set to a rock track. The second track, "Give A Little More," has more of a funk sound to it, which may surprise some devoted Maroon 5 fans. Lead guitarist James Valentine's talent is showcased in frequent solos. "Stutter," the third track, is a catchy pop tune that will get stuck in your head and stay there for a while. The fourth track, "Don't Know Nothing," is another funk sounding track. Levine's tenor voice is showcased through the song, along with catchy harmonies from the Valentine and keyboardist Jesse Carmichael. "Never Leave this Bed," the fifth track, slows down the pace of the album a little and delivers a solid rock/pop ballad.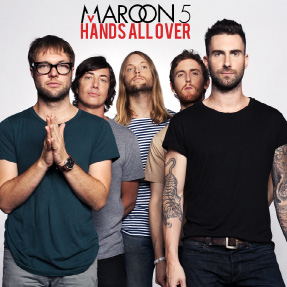 While listening to the track, you believe what the band is saying, which is an important factor to an album. "I Can't Lie," the sixth track, sounds similar to songs on "Songs About Jane."
The song brings back Maroon 5's laid back rock sound and is a nice addition to the album. The title track, "Hands All Over", is a seductive rock song composed of Levine's voice and addictive guitar riffs.
The piano is showcased in the next song, "How." The band's percussionist Matt Flynn also adds a drum part that will keep you tapping your foot.
The ninth track, "Get Back in My Life," is a pop track begging for someone to come back. The song will catch on for the fans of love songs. "Just a Feeling," the tenth track, is a slow track that is a catchy love song. The eleventh track, Runaway, features a bass line by bass player Mickey Madden. It is slower song, yet has a beat that keeps you listening. The last song, "Out of Goodbyes," features the band of the moment in country music, Lady Antebellum.
Many Maroon 5 fans may be hesitant to the band "going country," but surprisingly Levine's voice blends very well with the smooth voices of Lady Antebellum. The song combines Lady Antebellum's country/pop sound with Maroon 5's rock/pop sound and fits perfectly for both bands.
"Hands All Over" was an experimental album for Maroon 5. Many different sounds were tested, and it turned out well. Although the band's die hard fans may be a little hesitant to the album, it should bring in a new group of fans with the experimentation of different sounds.