Alison Trautmann
Editor-in-Chief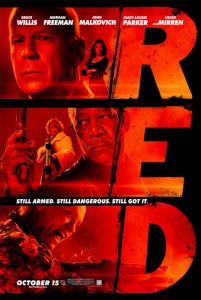 "RED" stands for Retired and Extremely Dangerous, but don't let that scare you away from one of the most entertaining movies in a very long time. I can't remember the last time I had so much fun in a movie theatre. "RED" was funny, action-packed, and (most importantly) entertaining.
Starring Bruce Willis, Mary-Louise Parker, Karl Urban, Morgan Freeman, John Malkovich and Helen Mirren, "RED" is a romance, comedy, and an action adventure film all rolled into one.
Frank Moses (Willis) is a lonely ex-CIA agent who spends his spare time growing avocado plants and ripping up his pension checks so he can hit on the customer service agent, Sarah Ross (Parker), who handles his pension problems.
One evening, a hit squad unexpectedly comes in and tries to kill Frank so he rushes off to rescue Sarah. It is not explained until later in the film why they are being hunted down but it does not matter. The audience is with the characters for the whole wild ride.
Frank and Sarah go on a wild chase to find all of Frank's team before they get killed. By far the most amusing entrance, Helen Mirren, famous for playing such refined roles as Queen Elizabeth II and Sofya Tolstoy, first appears in the film while arranging flowers and then pulls a gun from under the table.
The film jumps from one action sequence to the next, interspersing moments of connection between the characters ultimately making a film full of laughs and explosions.
Other reviewers have compared "RED" to both "Knight and Day" and "The A-Team."
Unlike the other two films, this one is actually worth seeing. If you want to laugh and enjoy yourself with a few guns involved, then this is the film for you.