Album review: "Steel Magnolia" rocks
Kelly Rickert
Assistant Layout Editor
After winning the show Can You Duet on CMT, Steel Magnolia, consisting of Meghan Linsey and her boyfriend Joshua Scott Jones, has been taking the country music world by storm. In fact, their first single, "Keep on Lovin' You" became a Top 5 hit on the Billboard country chart and their second single, "Just by Being You" was a Top 40 single as well. So how did the rest of their debut album, self-titled "Steel Magnolia," measure up to these two powerhouse singles?
"Steel Magnolia" is a great album, full of love songs and powerful vocals. The entire album features creative guitar riffs, an overall rock-country sound, and the robust vocal styling of the two talented, young singers. The opening track, "Ooh La La" is a strong start to the album. It's a fun, flirtatious song, with the powerful vocals by both singers and a great hook. It is definitely one of their best songs.
Following these are "Keep on Lovin' You," and "Just by Being You (Halo and Wings);" both display their vocal talents, and showcase their ability to harmonize very beautifully.
After these three love songs, comes a break up song, "Edge of Goodbye." The dramatic music builds to create a very vivid scene, exposing both the man's and the woman's perspective on a breakup. The music and lyrics combine to tell this story very well.
"Bulletproof" is a strong song, featuring Meghan  Linsey, with just some harmonies from Joshua Scott Jones. It is a powerful female song about being strong after a breakup, and her powerhouse vocals are what make it a fantastic song.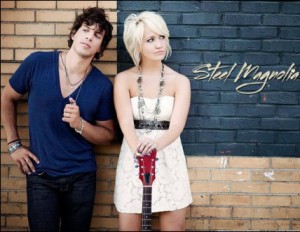 The track "Not Tonight" is one of the few softer songs on the album. It features some great instrumentation and the vocals are good, as they always are with these two talented singers.
"Last Night Again," their latest single off the album, is a catchy, flirtatious tune. Following this is "Without You," another charming love song. The acoustic version of "Without You" that they also include on the album is musical bliss; its pure tone and lone acoustic guitar make it a truly great track.
The next track "Rainbow" is catchy and upbeat, but seems somewhat cheesy. The slight adaptation to the classic "Somewhere over the Rainbow" and several references to rainbows, including the phrase "pot of gold" are clever, but a little over the top.
Following this is "Eggs Over Easy." This song, once again, highlights the duo's ability to harmonize very well and also throws in some harmonica, which had not been noticeable in other songs. Overall, this song is good, but not necessarily their best.
"Homespun Love" is easily and clearly defined as a country love song. From the lyrics to the music, it is heavy on the country.
The final track, "Glass Houses" sounds like a completely different band from the start of the album. It is the most moving, heartrending and arguably best track on the album. It is the gravest song on the album, with unquestionably the most substance of any of the other tracks. It is the culmination of everything they had done right on the rest of the album, including their nearly flawless  harmonies, exacting guitar track, and wonderfully written lyrics.
Steel Magnolia is a great new country album. The duo's chemistry showcases through their music very well. They have a very distinct sound, including great harmonies, terrific guitar riffs throughout the album, and solid lyrical ability. As long as they continue to do what they did on this album, Steel Magnolia has a very promising career ahead.