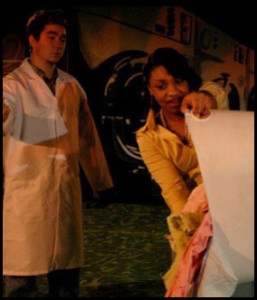 Lisa Piccolo
Peace and Justice Editor
"Letting go," the senior capstone project of Kelly Williams and Thomas Korp, provided two very different plays that combined into one performance. With Williams directing "Bridge to Terabithia" by Katherine Paterson and Stephanie S. Tolan and Korp directing "Dr. Hor- rible's Sing Along Blog," by Joss Whedon, Jed Whedon, Zack Whedon and Maurissa Tancharoen, there was a little bit of fun for all audiences.
The play started out on a more somber note with "Bridge to Terabithia." The play centers on Jesse and Leslie's adventures in a mystical place, Terebithia. The play also incorporates the children's home life. The set design for this play was very simple but fit the scene very well. Over the stage was a table, a telephone, and a tree stump. While it left the rest of the scenery to the imagination, it was done in a very effective way.
The casting was also done well. Nathan Bradley was cast as Jesse, Gabby Badowski as Leslie, Jessa Casner as Mrs. Aarons (Jesse's mother) and Miss Edmunds and Gina Solebello as May Belle, Jesse's younger sister. Each of these actors stayed true to their parts and stayed in character. The chemistry between Bradley and Badowski was well played. If one didn't know any better, these might have been best friends in real life. The pacing of the play was very well done. Overall, this was an excellent play and Williams should be commended for her job directing.
After a brief intermission came the more upbeat of the night. "Dr. Horrible's Sing Along Blog" made the audience laugh out loud. From the start of the play, Connor McMyne, as the title character
Dr. Horrible, (or Billy as he is also known) captivated the audience. While the set was simple, it still made the audience feel like they were actually there. With the other characters, Moriah Crawford playing Penny, Matthew Gill Clark playing Captain Hammer and Bad Horse Chorus, Joe Pochis as Moist, a groupie, the mayor, and a reporter, and Samantha Eyler as a groupie, reporter, and part of Bad Horse Chorus, the show exceeded the expectations of the audience.
Dr. Horrible and Penny had some great chemistry. McMyne and Crawford did an exceptional job of acting like two friends. McMyne and Gill Clark portrayed their supposed hate relationship very well. Seeing these two before in another play, it was interesting to get them together in a different way. All of the actors did an exceptional job in their roles. The set was very minimalist, which left things to the imagination. While there were more changes than "Bridge to Terabitia," these changes flowed quite well.
The songs were very entertaining, and the whole show was quite a riot. The audience was left laughing very hard.  Overall, "Dr. Horrible's Sing Along Blog" was one of those that should not have been missed. It was one play that would be worth seeing again and again. Both of the senior shows were enjoyable. Bravo to Williams and Korp for leaving a lasting impression on
the Marywood Theater world.