"The Fantasticks" delighted audiences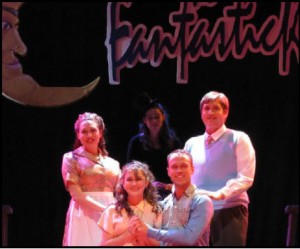 Lisa Piccolo
Peace and Justice Editor
Two young people meet and fall in love. One is the stereotypical guy. One is the eccentric girl. And no, this isn't William Shakespeare's "Romeo and Juliet." This is the story of "The Fantasticks," presented last month by Marywood's department of music, theater, and dance.
Starring Marie Philbin, Tom Korp, Caroline Andrews, Mike Hurst, Jonathan Alunni, Dana Bartolomeo, Shane Hirschler and Amanda Merrill, this show kept audiences riveted from first note to the last curtain call.
This play, directed by Dr. Dan Robbins, seems to take the conventions of a love story and throw it out the window. With the characters of Louisa played by Caroline Andrews, and Matt played by Mike Hurst, who are the couple of the musical, theirs is the classic love story. Yet, throughout the play Louisa and Matt were thrown different obstacles, which they overcame by the end of Act 1. So, how does this play become two acts?
Well, that is something that takes the audience for a ride. The lighting of the show made it seem like there was more to the set than there actually was. The staging was phenomenal. Two of the numbers were choreographed by one of the stars of the show, junior Dana Bartolomeo, while the rest was choreographed by Natalie Schultz-Kahwaty. All of the dances fit the plot and the songs. This helped make the show as phenomenal as it was. The talent in this musical was beyond words.
The one character that seemed to get the most laughs was El Gallo, played by Tom Korp. He fit the role perfectly. Dana Bartolomeo, who played Bellomy and Jonathan Alunni, who played Hucklebee, took the show to a whole new level.
Shane Hirschler and Amanda Merrill, Henry and Mortimer respectively, played roles that took the show above and beyond what it could have been. As for Mike Hurst and Caroline Andrews, Matt and Louisa respectively, they took the parts that they were given and gave life to them. It was a phenomenal performance by all. And then there was the Mute. Marie Philbin took this role and made it hysterically funny. Every move, every action was dramatic and wonderful.
With every musical, there has to be singing. Each of the actors did a great job with the songs they were provided. They all had a lot of energy and gave it their all.
In looking at "The Fantasticks," it is a musical that is enjoyable for people of all ages. It has certain qualities that made it perfect for all ages while including a college setting. The cute little love story that comes full circle at the end was the icing on the cake. If it is ever being performed near someone who didn't get to see Marywood's production, this is one musical that is a must-see.