Borders, Electric Theatre Company closes doors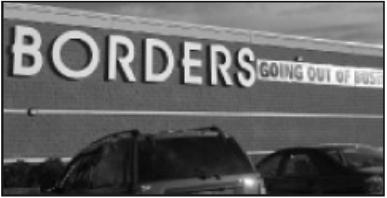 Photo Credit: Katie Owens
Borders in Dickson City will sell its last book by mid-September
Alison Trautmann
Editor-in-Chief
On July 18, Borders announced, after filing for bankruptcy earlier in the year, it would be closing almost four hundred stores permanently, including its Dickson City location. In a press release from Borders Group President Mike Edwards said that, "The headwinds we have been facing for quite some time, including the rapidly changing book industry, eReader revolution, and turbulent economy have brought us to where we are now."
Later, in August, the Electric Theatre Company in Scranton announced that it too would be closing its doors, citing such factors as economic hardship, the retirement of key members in the company and competition from other forms of entertainment.
"While we find this profoundly disappointing, we are proud of [the Electric Theatre Company's] accomplishments and of the remarkable group of artists and partners that will survive [the Electric Theatre Company]" wrote Tom Walker, President of the Board of Directors for the Electric Theatre Company, in the institution's farewell letter to its patrons.
"I think it's really sad" said Megan Cerco, a Marywood alumna. "I loved the fact that Scranton had a theatre like that. The actors are so talented. As a member of the audience you also felt as if you were a part of the play, not just sitting on the outside looking in. I will definitely miss it."
Tom Korp, a recent graduate from Marywood's musical theatre department said , "I was really hoping to apply there once my internship was over."
However, the people of Northeast PA need not stress too much because Books-a-Million, after an initial bid to buy Borders material that was unsuccessful, announced on August 29 that it would be purchasing fourteen Borders locations including the Borders previously located in Dickson City.
This deal will provide locals a place to purchase reading material and fills the void that Borders would have left in the book industry in Scranton.