SAC-turday Night Live makes for successful Spring Fling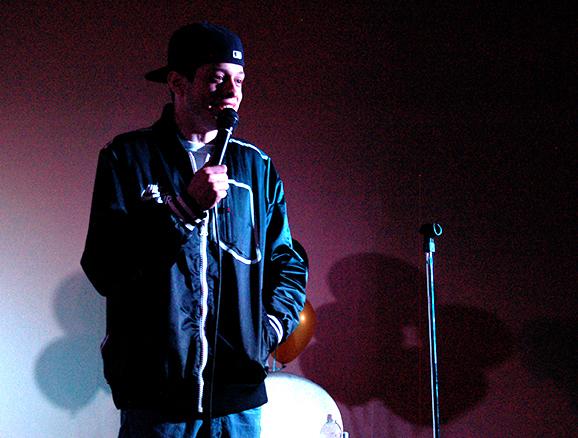 Live from Scranton, it's SAC-turday night!
With warm weather approaching, Marywood students celebrated Spring Fling on Saturday, April 18 with a night of comedy put on by the Student Activities Crew (SAC). This show featured performances by Pete Davidson from Saturday Night Live, Nicole Byer from MTV's Girl Code, and Kevin Barnett from MTV's Guy Code.
According to Kimberly Coleman, assistant director of Student Activities & Leadership Development, it took a lot of hard work to organize this event with the well-known comedians.
"We started back in the fall semester, actually planning," said Coleman. "It takes a really long time to make sure that the contract goes through, and make sure that they can come on the date that you like."
The night began at 7 p.m. with hors d'oeuvres in the Fireplace Lounge. After hors d'oeuvres, students began to line up to enter the Latour Room for 8 p.m.
Erica Nealon, a broadcast journalism alumna, and her sister Maura, a freshman accounting major, were two of the people standing in the line that stretched across the Fireplace Lounge. The sisters are big Saturday Night Live fans and were excited for the show to start.
"It's really neat that these people take the time to come here…who would think that someone from SNL would come to Marywood?" said Erica Nealon.
Once everyone was seated, the night began with an opening performance from Marywood's very own Improv group, Improv Beyond. The group was fresh from their Spring Show the night before and successfully got the crowd laughing with their performance.
As Improv Beyond left the stage and Nicole Byer was getting ready to come in, there was just one question left unanswered. How would comedians from such raunchy shows be viewed in the eyes of administration?
"We told them in the contract to make sure that they knew we were a Catholic institution, and we told them about all of our values and mission," said Coleman. "Because of freedom of speech, we really can't sensor every single thing they say, but I think they understand the guidelines of the school and what we stand by and they'll do their best to abide by that."
This didn't stop the comedians from utilizing their traditional raunchy sense of humor, but the laughing students in the packed Latour Room didn't seem to mind. Byer was up first, followed by Davidson and Barnett. Each comedian poked fun at the Pennsylvania area, and Davidson even recognized that he was where the hit show "The Office" was based.
Students provided high levels of energy in the room for each performer.
"The students were happy to be there," said Byer. "They were just enthusiastic."
Barnett explained that the energy was one of the reasons that he enjoyed performing in front of an audience of college students.
"I guess a lot of the times the kids are really excited," said Barnett. "They're just happy to be alive."
Davidson is currently the youngest cast member on Saturday Night Live at only 21 years old. He made his debut on the show this past fall just in time for its 40th anniversary.
"It's weird…I'm the least experienced there," said Davidson. "You learn from the best…it's weird, but I'm having fun."
The celebrities that SAC chose for the Spring Fling performance were unique in that they were young comedians who could relate to the struggles for success faced by college students. When asked what advice they would give students, the answer seemed to be unanimous, "Don't be afraid to bomb."
 Contact the writer: [email protected]