Chinese artist visits Marywood, shows China's nature
Chinese artist Liping Jiang shared 27 art pieces that showed nature and landscapes of China in The Insalaco Center for Studio Arts on Feb. 22.
Much of her artwork showed mountains, flowers and birds all brush-stroked onto canvases.
There were also art samples for attendees to bring home that provided information on what materials and techniques Jiang used in her paintings.
According to Jiang's translator, Lisi Bao, Jiang is visiting the United States for 10 days.
Bao found Marywood's art exhibition through the US-China Cultural and Education Foundation, which bridges cultures and education between the United States of America and China.
Jiang said this exhibition purposefully expresses the art without frames which is a Chinese traditional way to keep their artwork.
"Not using frames is a way to carry and place the art somewhere…it's a traditional way to keep artwork in a typical Chinese home," said Jiang.
Cen Jiao, president of the multicultural club, liked that the Marywood community had the opportunity to see Jiang's paintings and even meet the artist.
"It's bringing us together to communicate with different cultures," said Jiao. "They're strong pieces of mountains, lakes, rivers, that make you remember her from other artists."
Ann Lathrop, a junior illustration major, enjoyed the exhibition because of the styles.
"I like this kind of medium with the brush strokes and ink work," Lathrop said. "Her artwork really shows China, which is wonderful to share with us."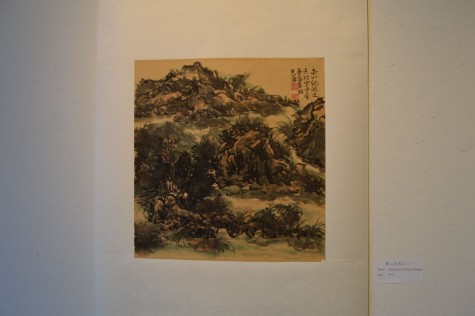 Contact the writer: [email protected]