Review: Weezer's "Pacific Daydream" a slight nightmare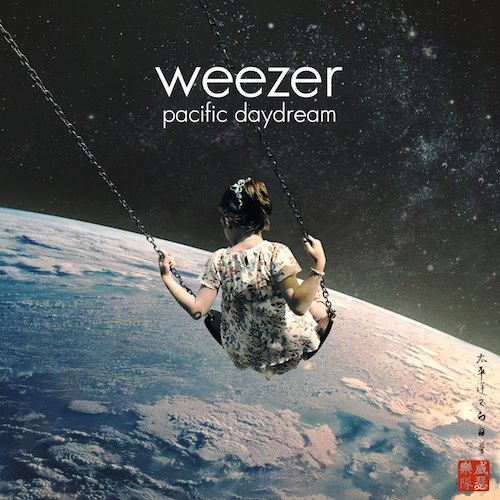 Weezer released a compilation album called "Death to False Metal" in 2010. It included a variety of b-sides and tracks that didn't make the previous albums. It was an eclectic and fun mix of songs, but it had no real cohesion and wasn't too spectacular.
"Pacific Daydream" feels like Weezer's second compilation album.
Coming off the success of 2016's "Weezer" (or better known as "The White Album") lead singer Rivers Cuomo and the rest of the band try to recapture that feeling of summer they were able to grab in their previous album. Unfortunately, "Pacific Daydream" comes across as forced fun, like a child stuck at a birthday party for a kid they hate.
The first single released, "Feels Like Summer," attempts to be catchy, but ends up being annoying. Cuomo's falsetto vocals in the chorus seem strained, and the backing music is forgettable. It was a foreboding sign for the rest of the album.
Most of the songs on "Pacific Daydream" feel like they were rejects from "The White Album," songs that try to follow an upbeat path but end up trying way too hard to be relevant to today's music scene. Cuomo's songwriting doesn't come off as authentic, and his usually charming lyrics come off as stilted and often creepy.
The album isn't terrible, just forgettable. Songs like "QB Blitz" and "Sweet Mary" try for some semblance of achievement, but suffer from being buried in the middle of the album. "Any Friend of Diane's," the album closer, was not a good song to end the album with. The closing track on an album should sum up the experience or provide a poignant moment to leave the listener wanting more. "Any Friend of Diane's" doesn't accomplish either of these tasks.
Weezer has definitely had worse albums. "Raditude" and "Hurley" were absolutely lower quality than "Pacific Daydream," but the album cannot come close to living up to Weezer's classic albums. "The Blue Album" and "Pinkerton" will be remembered for their catchy hooks, thoughtful lyrics and amazing energy.
"Pacific Daydream" will be forgotten.
Contact the writer: [email protected]
Twitter: @DWrightWW