Popcorn Picks Review: "Coco" joins the ranks of Pixar's best
When Pixar stays true to their style, it's hard not to love what they make.
"Coco" is the 19th film created by the animation powerhouse, focusing on the journey of a boy named Miguel, voiced by Anthony Gonzalez, through the Land of the Dead. Miguel is desperate to find out the truth behind his family's ban on music, so he travels to the Land of the Dead to discover his family history.
The biggest and arguably most important thing to point out about this film is the achievement in animation. In a pre-film clip, Director Lee Unkrich and two of the animators discuss what it took to create the shot below. This clip seems like the most complicated animation to date for Pixar. The scene consists of over five million lights and tens of thousands of homes, each individually crafted to create this first look at the Land of the Dead. Pixar is the frontrunner in animation, and it's clear from this scene why that is the case.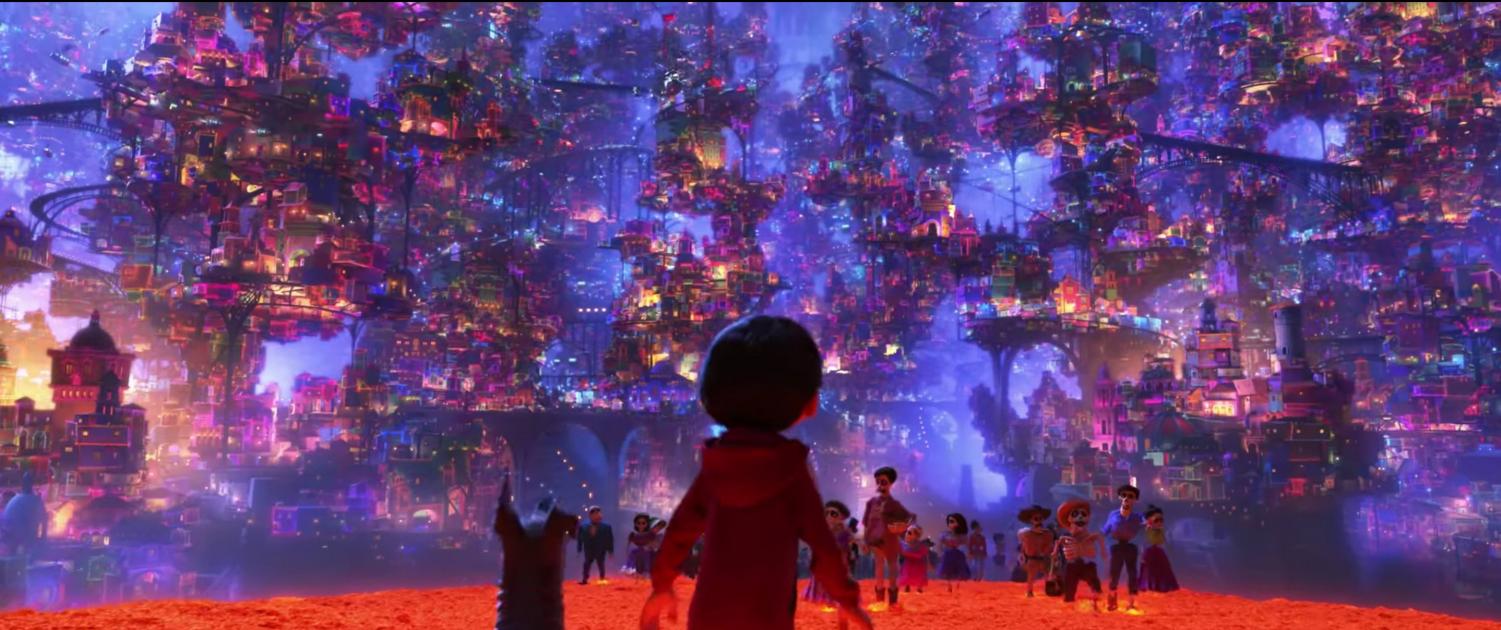 The film's story is definitely one of Pixar's best, if not their new number one. This story really fits the 22 storytelling rules Pixar follows with all their films. It manages to transcend this by taking the story through twists and turns. The film has a twist that really is hard to figure out until it is revealed, leading to an ending focused on redemption and forgiveness.
Gael Garcia Bernal, the legendary Mexican film actor known for "The Motorcycle Diaries" and "Y Tu Mama Tambien," takes his acting talents off-camera and on-mic as the goofball skeleton Hector. Though the best performance in the film, this performance is one he most likely won't be remembered for. When Pixar brings in big-named actors to voice characters, like Ellen Degeneres as Dory in "Finding Nemo" or Billy Crystal as Mike in "Monsters Inc.," many of those performances become attached to the actor forever. This isn't one of those times.
"Coco" focuses heavily on music, and the original songs in the film reflect the beauty of melodies. The highlight song is the lullaby version of "Remember Me" performed by Bernal. These few songs nail the point the film wants to make without turning the entire movie into a musical when it doesn't need to be one.
Pixar is my favorite film studio in the world. Ranking these films is like picking favorite children. But "Coco" has definitely found a home in my top three. The art style, the music and the story work together to create a touching piece about family and why they matter. This may never become as iconic as some of Pixar's other films, but it will be remembered as one of their best.

Rating: Four kernels out of five.
Contact the writer: [email protected]
Twitter: @BethanyWadeTWW