MU grad pair creates multicultural art exhibit
Two recent Marywood art graduates created a multicultural art exhibit that embraced a wide
range of thoughts and techniques.
Eric Bussari and Emmanuel Adjei fashioned "Solunar," a show featuring themes that included the sun and moon, contemporary ideas, the abstract, afro-constructionism, exaggeration and ancient Japanese mythology. The exhibit recently concluded its display in the Mahady Gallery.
Both members of the class of 2018, Bussart graduated with a major in Illustration. He went on to
become a freelance mural artist, painting murals in places such as Scranton, Wilkes-Barre, New York, and Utah. Adjei graduated with a major in graphic design, later opening up his own art
studio in Philadelphia.
"Once you find your own style and figure out what you like to do, you can do some pretty cool stuff," encouraged Bussart.
Bussart and Adjei, Marywood graduates with careers in the art world, are influential for many current art majors who can see first hand that they can continue creating art after graduation.
"It was very cool to see two Marywood graduates going out and making big moves in the real world. It definitely solidified that Marywood is the right school for me," explained Dylan Pugh, a freshman graphic design major.
Bussart and Adjei often worked together during their college years and collaborated on projects in the past. Though these two artists have different takes on style, they came together once again to create an exhibit that was a mix between collaboration and individual styles and projects.
Although the theme of the sun and the moon act as a middle ground for Bussart and Adjei to work together, the difference in styles and ideas let these two friends also identify with a sense of individuality.
Front and center hung their main collaborative piece, a set of three depictions of Luna, the Greek goddess of the moon. Both Bussart and Adjei added specific elements tailored to their skills and style. The goal of this solar and lunar theme was to reflect on the relationship between the sun and the moon.
"We're very interested in how that sort of interacts with the human experience, how it sort of defines how the energy, and how people live, and how people exist based off of that," explained Bussart.
The prospect of the sun and moon is all-encompassing. The sun and moon exist over all of us since creation with no distinctions. Therefore, everyone and everything, in one way or another, links back to the sun and the moon. This is where the exhibit's sub-projects shone.
Adjei incorporated various project series that helped focus on his individual skills and techniques. His Japanese Mythology series loosely depicted the myth of the sun and moon god, using abstract symbol narratives. In another series, he focused on the lucky number seven, incorporating seven letter words on each sub-piece. He also added pieces focusing on Afro-Constructionism as a design to help empower people.
Adjei's pieces showcased his skills in manipulating letter forms and calligraphy. He made bold choices in his pieces which were reflected in his artwork. Though his free-flowing calligraphy was impressive, he also displayed skills in depicting symbolic graphics and a way to cohesively tie together graphics and calligraphy.
Bussart specialized mostly in ink for the sake of this exhibit, using digital ink and ballpoint pen. He took on a comic style featuring cartoonish violence, exaggerated colors, and exaggerated expressions and human qualities that ignore logic and physics. In his part of the exhibit, you could find technical ink drawings, caricatures, as well as a "Bank Heist" piece featuring Bussart and Adjei in the aftermath of a fictional bank heist.
Bussart's biggest personal piece in "Solunar" was an oil painting called "Luna". This piece was based off of the ancient Greek Goddess, but with a more contemporary hair style and facial appearance.
"It is sort of like playing with the ancient source material and technology and sort of updating it, but still staying true to the source," described Bussart.
Despite the difference in technique and style, Bussart and Adjei created a cohesive exhibit that offered a sort of multicultural experience under the sun and moon.
Contact the writer:
[email protected]
About the Contributor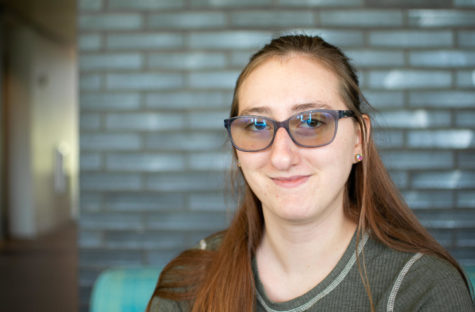 Amanda Morgan, Arts and Entertainment Editor
Amanda Morgan is a senior here at Marywood full of aspirations, double majoring in English Writing and English Literature, as well as pursuing her master's...