Is Marywood's Campus Safe Enough for You?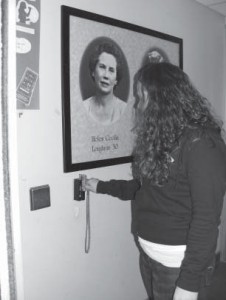 By Justine Carmine
Lifestyles Editor
How safe do we feel leaving home for the first time to live in an unknown environment? We don't always think about what could happen, even on a college campus, because we feel that we are always protected and sheltered. However, this is not the case, especially in light of the numerous school shootings that happen and increase each year. Do you ever think about how these tragic events could have been prevented? Or what we, as students, could do to make our campus safer?
Many students here at Marywood University feel that our campus is safe, but there's always room for improvement, especially when it come to our protection. No college is immune to crime. In fact, many crimes are more common on college campuses than off. It is essential that we follow all the precautions necessary to prevent any crime that could occur on campus. Here are some helpful tips to follow to ensure that you're absolutely safe while on campus:
• When walking on campus make sure to follow a well-lit path.
• You should always move in groups; there is truth to the saying that there is safety in numbers.
• If you are forced to go out alone, let your roommate or dorm neighbor knows where you are going and when you should be back.
• When exercising alone, be careful when wearing headphones. It leaves you vulnerable and unaware of others and your surroundings.
• When back in the dorms, always lock your doors and windows before going to bed for the night.
"We're safe and security is fine with what they do, but the university needs to take more measures to enhance our safety on campus," states Kristi Castillo, '09. "Other campuses utilize the blue light system and ours are broken. That worries me when I walk or run in the morning."
Marywood University utilizes all of the necessary tools to make this campus safe: paths are well-lit at night, emergency alarms are placed around campus, and security is often patrolling the campus late at night. If you are ever alone and feel unsafe for any reason, don't hesitate to call security, they're here to help.
Junior, Jason Wolf states that, "I feel safe on campus because we have good security and I see them do rounds. I think they should do more rounds. The university should take more steps. The students in the media center call security all the time to unlock doors for us, I think that the media center students need swipe cards so that security could do more than unlock doors."
With the proper tools and good security on Marywood's campus, we could put more parents and students at ease when moving into this new environment. College is supposed to be a life learning experience and we shouldn't hinder that by not looking out for ourselves, or our neighbors.