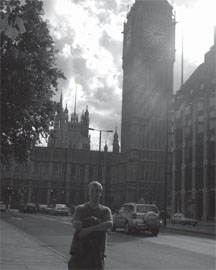 By Mark Baron
Staff Writer
This past fall, I had the opportunity of a lifetime to study abroad in London, England. Before London, I had never gone outside of the United States and I had never even been on an airplane before! From the moment I got onto the plane, to the moment I stepped back into the U.S., it was a surreal experience.
The school I choose was Middlesex University at Trent Park; otherwise known as King Henry VIII's hunting grounds. I was actually living on a historical landmark! However, this could never compete with what lay inside the city of London, about 20-30 minutes away. So much to see! Buckingham Palace, Parliament (no video or photograph does it justice), St. Paul's Cathedral, the Globe Theatre, and tons of history on every street.
History was one of the best parts of studying abroad. I was amazed at how much the English retain their traditions and especially their architecture. All the buildings and streets are so clean and well kept, yet there's not a trash can in sight!
Story continues below advertisement
One of my favorite memories in London was sitting in a pub called the Founders Arms at sun down, on the banks of the Thames River. Besides their pubs, the English are also known for their 'afternoon tea.' For all you guys who think having tea is for the girls, think again. I had the opportunity to have afternoon tea at the famous and elegant Savoy hotel as a gift from the school I worked with. That's probably the closest I'll ever come to feeling like royalty because I ate like a king!
Besides London, I visited cities all around England. During a home stay experience, I stayed with a couple that lived in the small city of Peterborough. Another excursion took me to Rochester, where I got to experience their annual Charles Dickenson Christmas Festival. During the festival, people dress up in old English costumes, play music, and serve up great food. Another trip took me to Windsor, Bath, and the ever-astonishing Stonehenge! Windsor Castle was a fortress filled with all kinds of history. The Roman baths, in Bath, were unreal. Stonehenge was a dream come true, filled with wonder.
I did not limit my budget to places in England. I made sure to visit Paris, France and Amsterdam, Holland. I stayed for two days in each place, but every minute was unforgettable.
Climbing to the top of the Eiffel Tower and looking out over the city: how can you not feel fulfilled in some way? Amsterdam is not just known for…well, you know. It is also a beautiful city marked by its canals and atmosphere.
When I look back on my trip, I can't help but think it was a dream. Staying over 3000 miles away from home makes your entire view change. Just because they spoke English doesn't mean that the country wasn't foreign. It was like learning a whole new way of life. I'd recommend studying abroad anywhere out of the U.S. The experience has been so fulfilling and has taught me so much. This article is just a  taste of what I saw. If you want to learn more, drop me an email [email protected] or go to Marywood's Study Abroad office, run by David Crisci. Study abroad! You won't regret it!