Lead On 101: Dr. Sue Perlis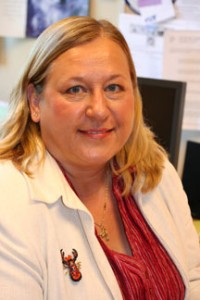 Lead On 101 is a series of questions posed to administrators and faculty by the Office of Retention and Advising. This forum offers insight and practical advice about Marywood and managing your college career. This month features Sue Perlis, Ed.D., associate professor of education.
What would you like students to know –
about you?
I had a rough time in college as an undergrad.  I was the first person in my family to go to college full time and complete a bachelor's degree. I did well in high school but didn't really know how to study for college.  I also changed my major from Biology to Undeclared while I decided what I wanted to do with my future.  As a result, I am really sensitive to students who are undecided about a major or struggling with their classes, time management and other issues that impacts their success in college.  Also, I thought a lot of my teachers were boring to listen to.  So … now that I am a faculty member I try to do different things to engage my students so they don't fall asleep in my class!
about your department or colleagues?
I often hear that many students think that the Education department makes things tough for students. I remind them that we need to meet the guidelines of the Commonwealth of Pennsylvania Department of Education.   They set the guidelines for certifying teachers and administrators in Pennsylvania. We must follow them – the same as every other college or university in the commonwealth.
about Marywood?
What I love most about Marywood is that we reflect our mission on a daily basis.  The mission isn't put on a shelf at Marywood – it is the lived experience.
What was the best advice you ever received when you were in college?
Get involved.
If you knew then what you know now, what would you have done differently as –
a college freshman?
I would have gotten tutors in all my classes (we didn't have them in the dark ages when I went to college).  Also I would have gone to someone for help with time management the first day of school.  If they were invented… I would have had a Palm Treo phone!
an undergraduate student?
I would have spent some more time as an athlete.  I stopped swimming my junior year to concentrate on school and work.  If I had time management help maybe I would have found a way to continue as an athlete as well.
a grad student?
I would have gone to grad school earlier in life.  It was hard going to grad school with a family and working full time.
What steps should students take to make them successful in college?
Don't be afraid to ask for help.  Go to your advisor and to the Academic Excellence Center. We have wonderful resources at Marywood and they are FREE!  Get tutors and get some help with writing papers and learning formatting styles such as APA or MLA. Also – don't wait until the last minute to study or to do assignments.  Budget your time – I can't say that enough.  Students bring too much stress on themselves by procrastinating.
What would you say to students who have not yet been able to choose a major?
Go to the Office of Career Services and take an interest inventory and play around with the Discover Software Program.  Make an appointment to talk to someone in the Career Services Offi ce to talk about different careers and majors. Talk to your advisor – whether you are undeclared or not.  Many students change their majors even if they come in declared.  It's ok to do that.  And … talk to your parents or significant others about your decisions.  A lot of students mistakenly think that their parents want them to be "a teacher" or "a nurse."  Most parents want their children to be happy and to be able to support themselves in a career they will love.  So – talk to lots of people who can give you options to consider so that you can make an informed decision that is right for you.
What advice would you give students who are having problems with academics?
Run – don't walk – to the Academic Excellence Center!!  Get tutors in all of your courses the first week of school.  You can always drop a tutor later in the semester if you are doing fine, but it gets harder to get one later in the semester when everyone's schedules are filling up.  Don't wait until you get in trouble …. Get a tutor to maintain your "A". Talk to your advisor before you get into trouble – develop a relationship with them as soon as possible in the semester.  Stop by and meet your advisor the first or second week of classes and make appointments to see them on a regular basis.  Be in charge of your academic success!  Don't wait until after a first test to go for help – that may be too late! I can't stress that enough! Also – if you feel stressed out – drop by the Student Counseling Center.  You'll find out that you aren't alone and that there are some really great people who can help you in many different ways.
Is there anything else you would like to say to students?
Enjoy every aspect of college – classes, extracurricular activities, athletics – be involved!  These four years go by so quickly. You will meet some of the best friends and influential people of your life.  You will be amazed at the change in yourself! Everyone should stand on the stage at Commencement and say – Wow!  I had the time of my life in college.  I am so going to miss this! Anyone who doesn't say that – wasn't involved enough.  Marywood has something for everyone – but you'll never fi nd it sitting in your residence hall room or your living room at home.  Get out and explore all that Marywood has to offer!  Go to Campus Ministry or the Mellow Center.  Run for Class office or join a club.  Do something new and different.