How Do You Use Social Media?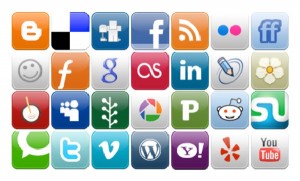 By Lauren Smith
Publicity Director/Lifestyles Editor
Right now, you might be thinking to yourself, "What the heck is social media?" I'm sure if someone asked you what Twitter or Facebook is, unless you've been living under a rock for the past five or so years, you could probably give them a crude explanation of the two. What many people don't realize is that Twitter, Facebook, Myspace, Youtube, and blogs all fall under the umbrella of social networks also known as social media. People may just see them as part of their daily rituals, which by now, is what social media has become.
So how is social media defined? To put it simply, social media allows people to share ideas, interests, inspiration, experiences–you name it, with each other via computer or mobile device. You could look up the Wikipedia definition, but that may just confuse you more. If you really want to get a good understanding of what social media is, you might want to check out a slideshow presentation created by Marta Kagan, an online marketing professional and managing director of US operations at Espresso, an integrated marketing agency called, "What the F— is Social Media." The presentation was created two years ago and was an Internet hit–so much so that Kagan made a follow up presentation last year aptly titled,"What the F— is Social Media: One Year Later."
In the last few years, it seems that social media came out of nowhere and is now everywhere; and almost everyone is using it for many different reasons and needs. Not only has social media embedded itself into our culture,  it's transforming industries and making companies think differently about how to market themselves. Many companies these days recognize the need for some sort of Internet presence, and the few that do not recognize this need run the risk of seeming archaic. What companies and brands are realizing is that as long as they're providing a product or service, people are talking about it worldwide, in real-time. They also realize that the conversation can't be controlled, so they can either choose to engage or ignore their customers, their involvement or lack thereof is their decision. An industry that's been directly affected by social media as of late is Public Relations (PR). PR professionals no longer only operate in the realm of press conferences and press releases where they're talking at people, they now operate within social media where they're talking with people. The same could be said about the advertising industry; ad agencies are coming up with new ways to engage customers with interactive content rather than just shout at them from their TV's.
So how does this all affect how you are using social media? While on the surface it seems like people only use social media for socializing and networking, it goes far beyond that. To see how people are using social media and what forms of it they use most, I went right to the source; I took to my Twitter and Facebook pages and asked,"What types of social media do you use and why?" I got responses from the most casual of users to the most devout, with the majority of responses coming from Facebook users. Twitter user Jamie Morgan said, " [I use] LinkedIn, Twitter (of course), blogging, Facebook, and niche social networking sites. I use them in that order–by effectiveness." 20 year-old Penn State Lehman sophomore Kelly Evans said, "[I use] Facebook because I can get in touch with friends from school faster. It's also helpful because if I missed an assignment or don't understand something, I just put that as my status and I usually get alot of responses!" Some users of social media use it for personal and professional reasons, such as Marywood senior Mandy Boyle and recent Marywood graduate, Sarah Switek. "I'm a major user of Facebook and Twitter, mostly to share relevant information and to keep in touch with friends and family", said Boyle, "As for LinkedIn, I use it primarily to expand my professional network, as well as to participate in discussions and learn." Switek, who graduated last year and now works as Director of Marketing and Business Development for Family Financial Center in Scranton said, "Facebook and Twitter are the way to go. Businesses are popping up all over Facebook and Twitter, which is a great option to reach numerous people for free." So now that you know what social media is, why not start your own conversation? If you do, I suggest you shoot these folks a friendly "hello" or follow on Twitter, who were kind enough to contribute to this article: @welovecda, @mlb217, @pinkjuniormints, @sswitek99, @syngergyrl, and @mwdpr.