Martin Mania Meets Marywood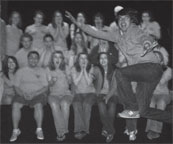 By Katelin Johnstone
Copy Editor
On April 13, Marywood began Spring Fling with a performance by comedian Demetri Martin. Students were thrilled to have such a big event take place on campus. They lined the streets hours in advance in anticipation for the show to begin.
Martin performed his unique show full of one-liner observational humor, accompanied with original music that only enhanced the performance. He provided the audience with a fulfilling experience, making the show personal and relatable.  While mocking the dated equipment, from the speakers to the exit signs, Martin brought our everyday thoughts and observations into a comedic light.  And if there is anybody who can explain why we have a street named Drinker leading to a dry campus, please step forward now.
Martin continued his show with the popular Large Pad act, and entertained students with his boundless lists and witty remarks.  Students were thrilled to have him here.  However, it was not only the students who gained something from the performance – Martin did as well.
Martin said he didn't get too experience too much of Scranton during the car ride through town. He said he saw "a little bit, but it was just from my car, but I wasn't going that fast so it wasn't blurry.  Actually, when I was little my family went on a ski trip to the Pocono's and we got lost, where we ended up on the way home was Scranton….  So this is the first time I went to Scranton on purpose."
As he approached campus, he felt nothing but a willingness to satisfy.  He said, "You guys hooked me up really nicely…I was really pleased."  He also said that Marywood and its students "were really nice, really friendly.  It's amazing how much you can really get the sense of a school just from being there one evening."
While Martin witnessed some of our college experience, it was only natural to wonder what this witty performer was like in his college years.  Many will be surprised to know that Martin's dream was not always to perform on stage, but rather in a courtroom.  For years this comedian planned to be a lawyer, until during his second year he realized otherwise:  "I decided I needed not to be in law school, I literally just didn't know what to do, and I never really thought of doing anything else with my life.  Then I just asked myself really simple questions.  I asked, when you wake up everyday, what do you look forward to doing? And then, now how do I get money for that?  There's a better way to go about figuring out a career, rather than what's the title of the job I wanted, or what will impress people."
What may not surprise you quite as much are his past collegiate activities.  Martin is a self-proclaimed "hardcore dork" who rode a unicycle and was a member of the anti-gravity society – yup, he juggled.  While these are unusual talents, it's not too difficult to imagine this unique comic mastering skills that so many of us wish to perfect. Unbelievably, his talents stretch even further than this.  Currently he has a book deal and is working on writing a sketch show for Comedy Central.
This incredible comedic opening to a week paved with fun activities surpassed what was expected.  Martin provided Marywood students with an enjoyable evening, and I think I speak for us all when I say he is welcome back anytime.  Am I right…ladies?