Recent Marywood Grad Receives Fulbright Teaching Assistantship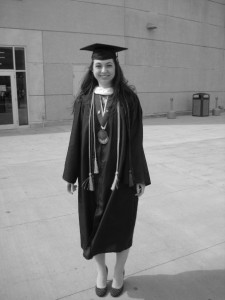 By Victoria Clarizio
Staff Writer
In 2008, numerous Fulbright scholarships were awarded to students across the United States. One of these prestigious awards went to Maria Alena Scavone, a 2008 graduate of Marywood University.
Fulbright offers many different types of grants, including full grants and travel grants. Scavone received a French Government English Teaching Assistantship grant which will allow her to teach in Bordeaux, France this school year. This Hudson, PA native graduated with degrees in French and Spanish, and a minor in Music and Dance performance.
Studying French in high school sparked Scavone's interest in the language. When she had the opportunity to study abroad the summer after her sophomore year in Pau, France she realized that her knowledge of the language grew more in that short period of time than throughout her years of study. Her professors encouraged her to apply for a Fulbright scholarship, which she decided would be an excellent opportunity to immerse herself in the French culture and language once more.
Application for a Fulbright scholarship begins in a student's junior year or even sophomore of college because the deadline occurs in the fall of the student's senior year. Christina Elvidge, Director of Honors and Fellowships, says that a student who is considering applying for a Fulbright scholarship would "need to have a clear idea that they want to do this by junior year."
Elvidge also warns that the application process takes months. "This is not an application you can sit down and fill out in a day," she said. The extensive application process has several steps the applicant must complete. The applicant must submit the application, which includes letters of recommendation, transcripts, curriculum vitae and a project proposal, to a national committee in October. The application is then sent to the Fulbright Commission in the country to which the applicant wishes to travel. The J. William Fulbright Foreign Scholarship Board makes the final decision, notifying the applicants of their acceptance in June.
The Fulbright program suggests that applicants begin the application process at four weeks prior to the deadline. "Be sure to start early," Scavone said. "The summer before you are going to apply will give you plenty of time to begin writing your personal essay and project proposals."
As a recipient of this award, Scavone will be teaching students between the ages of eight and 11 for 20 hours each week. A requirement of the award is that the recipient must create a project to develop during the other 20 hours required each week. Scavone will be starting an English Language Club which will include dancing lessons, a children's chorus, and a pen pal program for the older children. This will provide a more casual and fun environment for her students to increase their knowledge of English language and culture.
Scavone emphasizes the importance of having great advisors during the application process. "They offer excellent advice on how to make your application more professional," she said. "Talk to them often! I had wonderful advisors throughout the application process."
Scavone is a living testament to the excellent support system that Marywood offers to students wishing to apply for scholarships like Fulbright grants. She reports, "I am looking forward to the challenges of this academic year. Marywood has prepared me well."