CSD Helps at Head Start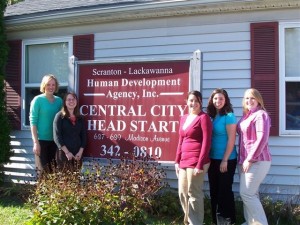 By Jillian Jones
Staff Writer
Throughout the months of September and October, students and faculty from the Communication Sciences and Disorders department have been volunteering their time at various Head Start centers around the area.  Undergraduate seniors and graduate students within the department along with supervising Speech-Language Pathologists and Audiologists traveled to 10 centers from around MidValley, Dunmore, and Scranton between September 19 and October 8.  In all, a total of 47 speech-language screenings as well as 296 hearing screenings were completed.
The Department of Communication Sciences and Disorders is pleased with the partnership between Marywood University and The Scranton-Lackawanna Human Development Agency, Inc.  Through this partnership, Marywood students and faculty provide a service to the children attending the Head Start centers in hopes for early detection of speech-language and hearing difficulties/disorders.
Conversely, the student clinicians from the Communication Sciences and Disorders department are able to gain valuable experience in working with clients in the field.
Through much coordination and cooperation from faculty, students, and Head Start staff, many screenings were successfully completed and much experience was gained.