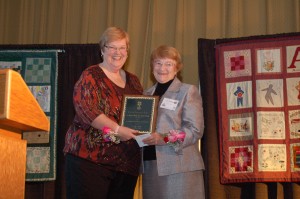 By Victoria Clarizio
Staff Writer
Sister Mariam Pfeifer, IHM, director of the music therapy program at Marywood, has been honored with the 2008 Honorary Life Membership Award from the American Music Therapy Association. She was presented with the award at the association's 10th annual National Conference in St. Louis, MO. The AMTA gives this award for "distinguished service in the field of music therapy" and if anyone has done extraordinary things in this field it is Sister Mariam.
After beginning her career in music education, she became interested in music therapy in its earliest stages, around 1950. While teaching music classes for grades 1 through 8 she realized that the children in the special education program did not have the same opportunities as their peers. She started a music program for them, which was her first experience with music therapy.
The AMTA defines music therapy as, "an established healthcare profession that uses music to address physical, emotional, cognitive, and social needs of individuals of all ages." Research in the field has revealed the incredible healing power of music. According to Sister Mariam, "the melodies" in music "can be soothing to even a premature baby."
Story continues below advertisement
While teaching at Marywood Sister Mariam designed and implemented the music therapy program here in 1979. She also set in place the program at St. Joseph's center. Out of all of her service to the field of music therapy, Sister Mariam believes her greatest contribution was her participation in the Certification Board of Music Therapy as legal secretary. As part of the board, Sister Mariam was instrumental in creating a national certification exam and a recertification process. She believes that the exam "has really made our profession come alive." By creating a national exam, the board paved the way for music therapy to be seen as an effective method of rehabilitation and health care and be nationally accepted as such. For Sister Mariam, her work in music therapy ties directly to the IHM mission.
During her acceptance speech for the award she said, "Young people in the profession and especially students here present, I encourage you to get involved, give of yourself …It is not only rewarding to give of yourself, but a truly educational experience where much learning transpires and many wonderful friends are made…you've assisted me in part to live more fully my IHM mission and charism of providing "joyful, loving, hospitable service" to others." Sister Mariam certainly followed her own advice in giving of herself to the profession of music therapy, which is not just a profession but a passion.