Author Nathalie Handal Visits Marywood University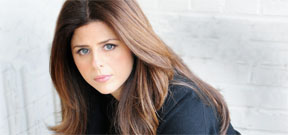 By Alison Trautmann
Assistant Editor-in-Chief
On September 30, 2009, the English Department and Office of Honors and Fellowship brought acclaimed poet, Nathalie Handal, to the campus of Marywood University for a poetry reading.
Handal engaged in discussion with students prior to her poetry reading and a social was hosted after the reading.  Handal told the attendees about her journey as a writer and spoke about her life experiences, which included living in places such as Europe, the Caribbean, Latin America and the United States. After giving a brief biography, Handal answered questions about her writing practices and experiences.  She also engaged the students in conversation about their life goals and travel experiences. Many students who heard Nathalie speak said they felt encouraged to write and travel.
After the discussion, Handal read some of her poems, such as; "Intermission," "Even," and "In Search of Midnight."  Before she read each poem, Handal gave a brief explanation about why she wrote the poem or why it was important to her.
Dr. Laurie McMillan said that the English department chose to invite Nathalie Handal to come speak because "her writing and work with film and theater brings together an international perspective and a local, personal voice. Nathalie's poetry addresses political and social concerns as well as interpersonal relationships."
Senior Samantha Coassolo said "I loved how, in her poetry, she was able to name and claim every part of her varied identity without fear and with such pride. There was a great power and uniqueness to her voice. It gave me chills. "
Handal's website states that she has studied at Bennington College, The University of London and Humbar College.  Handal has authored two books of poetry and edited an anthology of poetry by Arab women.  Film and theater are not beyond Handal's creative reach as well.  She has helped write, direct, and/or produce many films and theater productions.  Even with all these achievements and projects Handal has found time to author a third book of poetry that will be released soon.
When speaking to her audience, Handal's advice to aspiring authors is to "Read read read and continue to write, try to find your voice and let it come."