Vietnam War Writer Visits Marywood University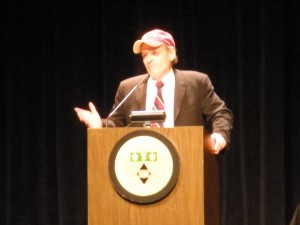 By Alison Trautmann
Assistant Editor-in-Chief
Tim O'Brien, author of The Things They Carried spoke at Marywood University as part of the Scranton Reads program on October 29. The Scranton Reads program is a community-wide initiative that selects one book for the entire community to read and connect by reading at the same time.
O'Brien spoke on the subject of stories and writing and gave a reading of his story "Ambush." After the reading he fielded questions from the audience and signed copies of his books
Clothed in a suit coat, baseball cap, and orange sneakers, O'Brien held his audience captive while speaking about his writing experience. While talking to his audience, O'Brien told them how he developed the idea for The Things They Carried. He said his book was born in the bottom of an irrigation ditch in Vietnam in July of 1969.  "In that ditch, it struck me for the first time in Vietnam that I would never forget the smell of that ditch.  I would never forget the sound of people dying" said O'Brien.
O'Brien was drafted into the infantry and wanted to desert but he feared disapproval from his family and friends so he went to Vietnam.  O'Brien received the Purple Heart for his actions in Vietnam.  When he returned, O'Brien became a writer at the Washington Post, then left after one year to be a full time writer.  He wrote several books including a memoir, If I Die in a Combat Zone (1973), Going After Cacciato (1978) and The Things They Carried (1990).
O'Brien spoke about the power of stories to his audience.  He voiced his opinion that stories have the capability to help heal, console, see, hear, and feel freshly.  O'Brien does not believe in factual stories but rather places his faith in stories that make you feel a specific way.  "A good story is aimed at a human being…not at your head" said O'Brien.
Since he has been a professional writer for thirty years, O'Brien was able to give advice to aspiring writers.  O'Brien gave several tips, the first was to avoid ridiculous language and excessive flowery alliteration. He also advised to use active and not passive language.  Show the reader, don't tell them.  His final piece of advice was, when writing fiction, don't be afraid to lie.
O'Brien then read a story from The Things They Carried called "Ambush."  The story was told from the perspective of a father telling his little daughter about his war experiences and then remembering how he killed a man.  O'Brien commented how the story was about responsibility and the ultimate reality of war.  The story looks at the death of one man in detail and the enemy is perceived as a human being, not just an enemy.  "Ambush" collapses "365 days of horror" into one event and one person instead of dozens, said O'Brien.
As the evening drew to a close, O'Brien gave his readers a glimpse of what he wants them to bring away from The Things They Carried. In response to a question, he said that he wrote The Things They Carried for the people that did not go through Vietnam so that they would be able to identify with those who were in Vietnam.  "We have the capacity to understand our world without taking part in certain events" said O'Brien.