Blue Lights Equal Safety First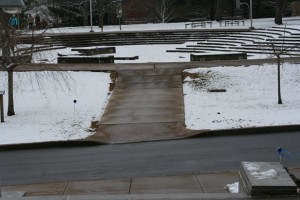 By Angel Fuller
Distribution Manager/News Editor
Recently we have all seen the blue reflector lights located around campus.  However, most of us aren't really sure what they are for or have even really paid much attention to them, as I'm sure we are busy being back in the Spring Semester.  However, they are something to be paying attention to especially during the last months of winter, when the weather can be at its worst.
So what exactly are the blue reflectors lights all of campus?  They are to show students, faculty, and staff where the safest route to walk is during snow storms.  What exactly does that mean?  Maintenance wants to make sure that they are not wasting valuable resources so they will be cleaning the main sidewalks first and after that will then be focusing on the secondary one.   However, please follow the main sidewalks that are cleared until the secondary ones are.   According to Mark Burns, head of maintenance, "We decided on the routes because main sidewalks are the priority.  We want everyone to follow the route so that they can get to class, parking lots, and dormitories safely.  Safety is our main priority".
The reflectors are put every couple of hundred feet so that they are clear where they are and that they can be seen clearly.  Please pay close attention to where the reflectors are put and make sure you are wearing the appropriate the footwear for walking during the snow to help avoid any unneeded emergency.  Use caution when venturing out in the snow.  The reflectors are put out to help this but students, faculty, and staff should also take precaution in their safety as well.  Pay attention to the reflectors and please don't remove them.  Mr. Burns says that over the summer a permanent snow route will be placed along the main sidewalks, until then the blue reflectors are being used.  So, please be aware of them, don't take them from campus, and lets all try to be safe during the last few months of winter.