One Semester Down, Many More to Come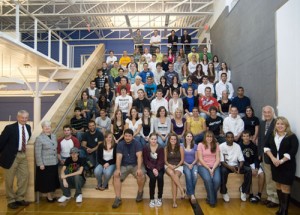 By Katie Zwick
Staff Writer
In the fall semester of 2009, Marywood University added a College of Architecture to its growing academic repertoire. It is the first School of Architecture in Northeastern Pennsylvania, and the first semester is over.
"Well, one huge surprise that came to all the students and myself would be the amount of hours of sleep we weren't getting," said John Casey, class of 2013. "Some nights I would be in studio till 4 or 5 in the morning working on a project trying to get it done for class."
It's obvious that this new program isn't easy. The amount of work that other classes put on us, including the work load of architecture classes, can be rigorous at points, he said.
But it's not all hard work. The easy-going atmosphere of the building, including its staff, makes the program worthwhile.
The 24/7 accessibility to the studio for the students, the open and relaxed atmosphere, and the fact that the professors will help any student with their project even if the student is not in their studio class, are definitely some of the pros of the program, said Casey.
Greg Hunt, Dean of the College of Architecture, was awarded the Virginia Society American Institute of Architects' highest award, the William C. Noland Medal. Quite appropriately, the award went to Dean Hunt, who has spent the past 30 years as an educator and administrator in the architecture world.
"When I heard that Dean Hunt won that award it made me acknowledge that the architecture program is being run by a knowledgeable professor," said Casey.
This high honor is bestowed upon an architect who has a great number of achievements over many years and spanning a breadth of the profession.
With the first semester behind them, the students of the College of Architecture look forward to many more late nights, drafting the future.