Evacuation Surprises Loughran Residents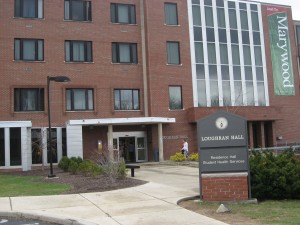 By Caroline Casey
Staff Writer
The Loughran Hall evacuation was a big surprise to almost all Loughran residents.  The fire alarm went off at about 2 A.M. on February 10th.  On February 11th at around 7 P.M. students were allowed back in the dorms.  Some people had left even earlier because of the smell that overtook the hallways.  The fire alarm went off a couple days before the evacuation took place because of a gas leak.  Although, this time, the cause of the evacuation was raw sewage.  Residents fled to Madonna, Regina, Immaculata, and some even went home or slept in their cars.  Others slept in the other dorm's lounges or in friend's rooms.
I, fortunately, live about ten minutes away and I was able to have a bunch of girls sleep over my house.  In walked about ten girls at 3 A.M. and my parents were pretty surprised.  We made the best out of the situation and luckily there were extra beds and some couches to sleep on.  Freshmen were excused from classes the next day.  Throughout the next day, students were allowed to go back in only for 20 minutes maximum time, to gather their belongings or get their books.  Then, by 7 P.M. students were allowed to move back in for good.
Sydney Pauline, a freshman who lives in Loughran, when she found out that the dorm was getting evacuated; she went down to the freshman parking lot.  Very worried, yet laughing at the whole matter. Sydney stayed in the parking lot for a few hours.  She then went to a lounge in Regina and stayed the night there.
Heather Brown, a Loughran RA, also went down to Regina to sleep.  Both Sydney and Heather made a bed out of the couches and said that it was quite comfortable!  Heather, being the helpful RA that she is, was giving students information about what was going on and where to go as much as she could.  Both Sydney and Heather, the next morning, went to Madonna to use a friend's shower.
Another Loughran resident, Burt Sempier, said that he didn't get a wink of sleep the night of the evacuation!  He ended up leaving with some friends and hanging in the game room and then went down to the commuter lounge.  Also during the night, Burt and some of his friends just walked around the campus.  Then, when he went back to Loughran some of the RA's said that they should go to the Nazareth Student Center.  When they could go back in the morning, they picked up some clothes and then headed off to another friend's dorm room to get some sleep.
Overall, people have had vast, different thoughts and opinions on how the whole situation was handled.  Burt thought that it seemed like the proper steps were taken for the evacuation part.  When it all came down to it, he said that he had a roof over his head, which was the most important part.  Sydney believes that although it was a very spur of the moment thing, and there wasn't much more they could have done, it was very disorganized and chaotic.  There should have been a better back up plan of action for this type of matter.  Yet, at the same time, she is glad to hear that they are working on making a plan in case it ever happens again.