Entrepreneur to Address Marywood Graduates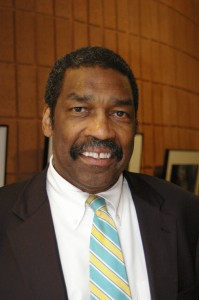 CEO William Strickland's Life is Devoted to Creating Cultural, Educational Opportunities
Press Release
William E. Strickland Jr., President and CEO of Manchester Bidwell Corporation and its subsidiaries, Manchester Craftsmen's Guild (MCG), and Bidwell Training Center (BTC), will be the keynote speaker at Marywood University's Commencement on May 9, 2010. He will also be awarded an honorary doctoral degree during the ceremony.
Mr. Strickland is nationally recognized as a visionary leader who authentically delivers educational and cultural opportunities to students and adults within an organizational culture that fosters innovation, creativity, responsibility and integrity. Throughout his distinguished career, he has been honored with numerous prestigious awards for his contributions to the arts and the community, including the coveted MacArthur "Genius" award. The past several decades have been dedicated to maintaining successful relationships with prominent national foundations and political leaders who share his passion and vision for a healthier future.
"Entrepreneurs are, by definition, visionaries," he stated. "The use of art to change students' attitudes is at the heart of my vision of education. I see a connection between the creativity instilled by a love of the arts, and the skills needed for business success. Artists are by nature entrepreneurs. They can visualize something that doesn't exist, to look at a canvas and see a painting. Entrepreneurs and artists are interchangeable."
Mr. Strickland grew up in Manchester, an inner-city neighborhood of Pittsburgh. His life changed when he became inspired by high school art teacher Frank Ross, a skilled artisan on the potter's wheel. The relationship that Mr. Ross and Mr. Strickland initiated with a revolving mound of clay gave form to the future vision of Manchester Craftsmen's Guild. The Guild began as an after-school arts program in a donated North Side rowhouse that Mr. Strickland secured while still a college student at the University of Pittsburgh. In 1969, he graduated cum laude with a bachelor's degree in American history and foreign relations.
The decline of the steel industry created widespread unemployment, and Bidwell Training Center addressed the problem by offering vocational training to displaced and underemployed workers. Due to his successful track record with MCG, Mr. Strickland was asked in 1971 to assume leadership of BTC and guide its transition to providing skills relevant to Pittsburgh's emerging market economy. His involvement in both MCG and BTC doubled the strength of Manchester Bidwell Corporation's ability to help the community. He envisioned a template for social change, and began to form relationships with businesses, government officials, and individuals who shared his vision.
Today, Manchester Bidwell Corporation has evolved into a national model for education, culture and hope. MCG Youth & Arts and MCG Jazz are both programs of Manchester Craftsmen's Guild: MCG Youth serves approximately 3,900 youth each year through classes and workshops in ceramics, photography, digital imaging and design art. MCG Arts gives students a chance to work intensively with visiting artists of national and international stature through exhibitions, lectures, workshops, residencies and school visits. MCG Jazz is dedicated to preserving, promoting and presenting jazz music by bringing audiences together with jazz artists at its 350-seat music hall in Pittsburgh for innovative four-day performances and recordings. After 20 years of operation, MCG Jazz has become an anchor of Pittsburgh's cultural and community life.
Bidwell Training Center provides market-driven career education created through strong partnerships with leading local industries. The center offers accredited associate degree and diploma programs in fields as varied as culinary arts, chemical laboratory technologies, health careers, horticulture, and office technology.