New Woodland Residence Halls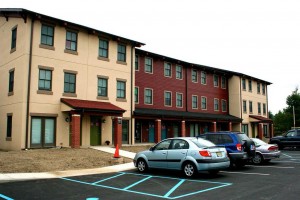 Alison Trautmann
Editor-in-Chief
The new Woodland Residence Halls are finished! Marywood students now have another option of where to live on campus. The groundbreaking ceremony for the new residence halls occurred on April 16 and digging began for the foundation two months later.  The apartments were finished and open for students to move in on August 20.
Myron Marcinek, Assistant Director of Buildings and Grounds, said that there were some problems with digging because of the amount of rock in the foundations. "It was very high stress to get everyone organized in time" said Marcinek. In August, the units were craned into place. This operation took less than a day. On Monday the foundations were bare and on Tuesday they were finished. The units had been pre-built off-site and once they were in place, the team only needed to connect the piping and stairs.
The new Woodland Apartments are more environmentally friendly because they use water to heat and cool rather than electricity.  These new residence halls were built because Marywood needed more residence space.
The Woodland Residence Halls are built to hold 120 students but this semester it is only housing 96 students. There are 12 apartments with two bathrooms on each floor and one handicapped apartment for each unit.
The new Woodland Residence Halls are the first student housing project since the renovation of Madonna took place three years ago in 2007. The older Woodland Apartments had been built in two stages that ended in 2001.