Study Abroad Adventure in Italy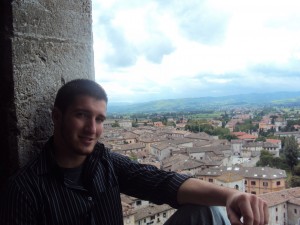 Elysabethe Brown
Staff Writer
Last spring, Jeff Addley found himself submerged in Italian culture. For the first time, he was away from home in a different country, not even knowing the language. He admitted that he had taken a bit of Spanish in high school and the Latin influence in both languages helped him pick up Italian, but he said he wasn't exactly "fluent". As we sat in a booth at the Atrium and he told me about his adventure in Italy, I detected a slight Italian influence in his speech, especially when naming things in Italy or speaking small Italian phrases.
So where did Jeff's adventure in Italy begin? In Jessup, Pennsylvania, of course! Every year on the Saturday before Labor Day, a festival in Jessup is held, called St. Ubaldo Day. The holiday was created in 1909 by the Italian immigrants who wanted to bring their culture to America. It is based on La Festa Dei Ceri, or the Feast of The Candle, still held in Italy every May 15th.
The tradition began when Bishop Ubaldo prevented Bar¬barossa from attacking their city. The residents of the city of Gubbio began to worry because Ubaldo had not returned for quite some time. They began to fear the worst. Once Ubaldo returned home, the residents were so hap¬py that they put him on a "stanga" and raced him through the streets of Gubbio.
The three statues, St. Ubaldo, St. George, and St. Anthony, are carried by ten men each, who then run the statues up a cliff. The runners make it in about eight minutes, whereas it could take about forty minutes walking time.
Each of the saints is carried in a line, starting with St. Ubaldo, al¬ways "winning", then St. George, and then St. Anthony. However, this "race" is not really a race. The runners work almost as a team; if someone lags behind, the others slow down, careful not to pass each other. Jeff's Italian ad¬venture began when he was one of the runners in St. Ubaldo day here in Pennsylvania. There he met two men who had traveled all the way from Italy to come to Pennsylvania for the festival. Jeff and his family welcomed these two men into their home offering them food and wine. These Italian men were so thankful for Jeff's hospitality that the other man, Giorgio, e-mailed him when he got back to his home, inviting him to come to Italy. In broken English Giorgio said "our home is your home".
So the next spring, Jeff and a small group from Jessup were off to Italy. There he attended college, The Umbra Institute, which is made up of all American students, while the faculty is half Italian and half American. It is one of three universities located in the capitol city, Perugia. Within 2 weeks of being there Jeff said he had a good feel for his surroundings, and all he wanted to do was submerse himself in the culture. While in Italy Jeff ran into Giampaolo Angeloni, the man who he had ran with a year earlier in Jessup. "Domani in la mattina nove agui." Giampaolo said to Jeff which translates into "tomorrow in the morning 9:00 here." Giampaolo had kept it as a surprise that he wanted him to run with him in the festival again, this time in Italy–something not many people ever have the opportunity to do.
The morning of the festival Jeff went to the museum where the statues were kept. He walked up to large wooden doors, where a group of military police and onlookers had gathered. Few people are allowed in the building, so he was questioned by the police. As he knocked on the door, a woman whom he recognized as the wife of a former capo deici, or captain of ten, (the person who was in front carrying one of the statues), welcomed him into the building where he then saw hundreds of people singing and celebrating before they started off with the festival.
At eleven o'clock they opened the doors to thousands of people all dressed in the colors of the saints, yellow, blue, and black. Jeff and Giampaolo ran side by side, just as they had in Jessup. "It was an adrenaline rush…I still get chills just thinking about it," says Jeff. Jeff says he would love to have to opportunity to go back to Italy–someday.
If you would like to find out any more information about St Ubaldo day in Pennsylvania or La Festa Dei Ceri in Italy, log onto www.saintubaldoday.com or www.ceri.it
Also, if you would like information about the study abroad program, contact David Crisci or Nancy Malony at Liberal Arts Center, Room 220 (570) 961-4581 or [email protected]