Grad brings Good 50×70 poster exhibit to Marywood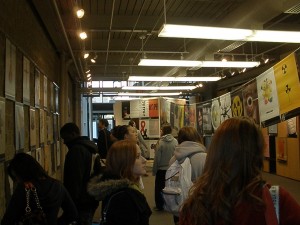 Elysabethe Brown
Staff Writer
The Society of Design recently came to Marywood University, from October 1 through the 24, to show their exhibit Good 50×70. The exhibit gives artists a chance to speak up for what they believe in. It also doesn't hurt that it gives these nonprofit organizations some free advertising.
According to Christine Medley, Assistant Professor of graphic design, the exhibit was offered by the founder, Craig Welsh, a graduate of Design from Marywood University. The posters were mailed to the university for free. All Marywood had to do was hang them up. The graphic design and art students helped out in setting everything up. "It was a good opportunity for them to get to see design and social design" said Medley. Because of space limitations in the Kresge Gallery, they were only able to fit 190 of the 210 posters that were sent.
"The goal of the Society of Design is equal parts design and community service," said Julie Bancrort of Society of Design. According to Bancrort the money always goes to a nonprofit organization, and has donated $20,000 to 14 different nonprofits so far.
"Society of Design dovetailed perfectly into Maywood's mission" said Medley.
Society of Design has been around for a year now and has about 250 members, including students and faculty from 20 different schools and universities.
If you would like to become a member of Society of Design you can go to societyofdesign.org and click, "Join" at the top of the page .Once you are a member, the fee is $30.00 for a student, $50.00 for faculty, and $100.00 for a professional.
Your membership requires a commitment of at least 10 hours of design-related community service each year. This can be done independent of Society of Design initiatives, or you can take advantage of Society of Design's opportunities available to its members. As a member you will also be able to take part in their tours and speaker series. "We want to connect designers," said Bancrort.
The quote "Pictures speak a thousand words" definitely rang true at this exhibit. Included in the collection was a poster by Malgorzata Bedowka, of Gdansk, Poland. It was a simple black background with a yellow globe in the center, with white surrounding it, to form a sunny side up egg. The message was clear without even reading the caption: Global Warming. Another poster, one that I asked to buy, but then, to my disappointment was told that the posters were not for sale; was a hot pink background with a glue stick, with a handwritten label on the front reading, "lipstick". The artist was Vahe Abed, interestingly enough from Tehran, Iran. The caption read- "Fashion: Shut Up". A glue stick instead of a lipstick will leave mouth closed to have no one shout for women's rights. Today fashion fools women and they're satisfied with their appearance. So my main idea is to play with cosmetics, and fake fashion."
Another poster was a white background with a sketched bottom half of a Mickey Mouse, with his red shorts pulled down; under it in black writing it said "Child Prostitution". It was such a simple design, but such a powerful message. The artist David Criado from LaPaz, Bolma, said in the caption under the poster "I believe that child prostitution is another form of child labour. The poster tries to express the problems that many countries have with the abuse of innocent children and the adults that don't care about these children at all and exploit them." He took a recognizable symbol and turned it into something that could make us all aware of the dangers and reality of the world.
Desiree Zielinski, Junior Graphic Design, Marywood University said she first came to the exhibit because she was one of the students to help set up with the graphic design club. She said she was not a member, but might look into it, and think about joining, and if the Society of Design had an exhibit at Marywood again she would definitely come to check it out. "I think it's a good idea to have artists come together and show issues about the world that need to be addressed." Zielinski said.