Marywood changes severe weather policy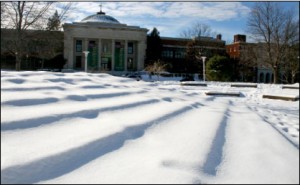 Alison Trautmann
Editor-in-Chief
Marywood recently announced a change to its severe weather policy.  This change involves the implementation of a compressed schedule when the school day is delayed to begin at 10 a.m.
The new compressed schedule begins at 10 a.m. and classes scheduled for 8:00 or 8:30 a.m. begin at 10 a.m. and continue in shortened form until 3:50 p.m. when the normal schedule resumes.  According to the Severe Weather Policy published by Marywood, if classes are delayed until 11:30 or later then they take place as normally scheduled.
Ann Boland-Chase, vice president for Enrollment Management, said that this new schedule allows each of the classes to meet and get a portion of their class time in for that day.   The compressed schedule helps classes that meet early in the morning, from missing out on class time without sacrificing the safety of students or their education.  "Students were losing classroom time" said Boland-Chase.
The fact that other colleges and universities in the area were utilizing a compressed schedule was a main reason for Marywood revising its severe weather policy.
This new policy will be evaluated at the end of the year and changes that need to be made will be implemented.  "It's an adjustment, questions will arise and we're here to answer them" said Boland-Chase, "but it was time that we, as an institution, looked at the severe weather policy."
Many students have found this schedule confusing. "I think it's ridiculous" said Victoria Della-Peruta, sophomore Architecture major, "One of my friends missed part of her studio class because of the difference between the schedule and our studio times."
Teachers are asked to inform students of the meeting times with regards to the new compressed schedule.  Faculty member with non-standard times would plan so that it adheres closely and conflicts as little as possible with the compressed schedule.