Campus prepares for National Library Week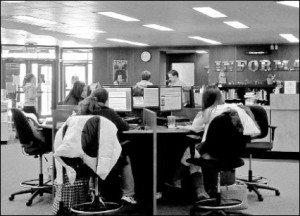 Alison Trautmann
Editor-in-Chief
Marywood University's library is beginning preparations for National Library Week which is observed from April 10-15.  National Library Week is a time each April to celebrate the importance of libraries in the community and for patrons to become aware of the benefits of their local libraries.  According to the American Library Association's website, this year's theme is "Create your own story at your library."
The American Library Association also names an "Honorary Chair" for National Library Week. This year, the Honorary Chair of the week is John Grisham.  The Marywood Library will be featuring a display of John Grisham books to celebrate his selection as Honorary Chair. According to Annette Fisher, the Information Literacy Coordinator for Marywood University library, "The most important part of National Library Week is celebrating libraries. Libraries get it really hard during times of recession and that is the time they need it most because libraries are where the public comes."
The library has planned events that capitalize on the theme of stories.  Apart from the stories within the books, the library will feature events such as a storytelling workshop and a presentation on Chinese folklore.  Guest speakers are planned as well as giveaways.  Patrons will be able to take daily library tours for a chance to win the grand prize of $100.   Live music, free food, free coffee and various presentations by different parts of campus will help round out the planned events for National Library Week.
Another aspect of the week is the essay contest.  This year, the topic is "Why the Marywood Library is important to me."  The prize is $50 and the winner will have their picture on the library's homepage.   According to the American Library Association website, National Library week was started in 1957 by the National Book Committee in order to encourage people to read more and support their libraries. In 1959, the week was made into an annual event and has been celebrated every year since.
A detailed schedule of the events for National Library Week can be found on the library's blog at http://marywoodulibrary.blogspot.com/.