Society for Collegiate Journalists inducts founding members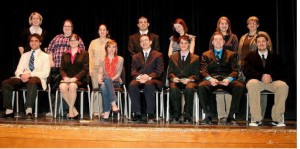 The founding members of the Marywood University chapter of the Society of Collegiate Journalists!
Front row (L to R): Jeremy Barket, Mandy Boyle, Elysabethe Brown, Owen Karoscik, Vincent Mecca, Shane Ostroski, and Joseph Petro.
Back row (L to R): Lindsey Wotanis, adviser, Lisa Piccolo, Kendra Rafferty, Dave Scarnato, Sara Tompkins, Alison Trautmann and Ann Williams, adviser.