Follett manages Marywood bookstore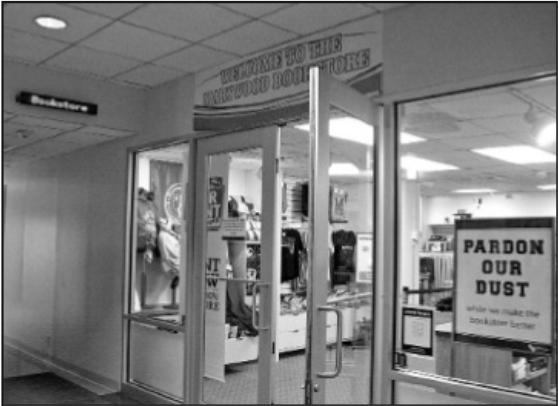 Photo Credit: Morgan Strasser
The bookstore undergoes renovations under its new management company Follett.
Sarah E. Cruz
Staff Writer
Students who purchased their books from the campus bookstore this summer may have noticed something's a bit different—the store is now under new management.
Effective August 2011, the Marywood bookstore, previously owned and operated by the university, is now part of the Follett Higher Education Group through a leasing agreement made last spring.
According to Joseph Garvey, vice president for business affairs and treasurer, the new management company pays Marywood for use of the space.
"Follett pays a percentage of their gross receipts from sales to Marywood for their use of the bookstore," Garvey said.
"We changed to Follett, rather than another provider, because they manage the bookstores at the University of Scranton, Keystone College and Lackawanna College. This allows for calling upon assistance during book rush; buy back, times of vacation and sickness," says Garvey.
Garvey said that the decision was made in the best interest of the University. The bookstore will now be able to lease texts and have more options for bundling. It will also have an improved merchandise selection, along with better buy-back options, and longer hours to accommodate special events, like orientations, student visits and trustee weekends.
According to Joan Diehl, bookstore manager, the bookstore now provides a wider selection of used books, and even allows students to download textbooks on a variety of digital devices. Students can even buy books online through the Follett website (efollett.com) and pick them up at the store.
In addition to buying textbooks the traditional way, students can now take advantage of Rent-A-Text, a program that allows students to rent certain textbooks until the end of the semester at a fraction of the purchase price. Books that are not rentable can now be sold back all year long, and students can expect to receive up to fifty percent of the original purchase price during finals week.
The bookstore will also carry a larger selection of clothing, gift, and supply items, according to Diehl. The shelves will also be stocked with an assortment of toiletries and household goods as well as more varieties of soft drinks and convenience items.
"When the bookstore was previously self-managed, we were unable to provide the quality of merchandise that students, faculty, and staff were looking for," said Garvey.
Follett will also spend in excess of $150,000 to renovate the space, which will include a small sitting area as well as room for more merchandise, according to Garvey. Students can expect to begin seeing these changes next summer.
Student response to the change in management has been mixed.
"I liked the discounts that were due to the switch over; I also liked that you could rent textbooks because at my old school you couldn't. You either had to buy them brand new or used," said Alysha Drum, sophomore transfer art therapy major.
Christina Morozov, a first year Biotechnology graduate student, said that the staff was both pleasant and helpful when she shopped the bookstore. "I was looking for a book the other day; someone actually came up and asked if I needed help. They never did that before."
Other students expressed frustration with some aspects of the transition, like Josephine Hall, a sophomore biotechnology major.
"I hate [the new management]. They were more relatable to the students last year. If I couldn't find a book in the store, they would help me look on Amazon until I found the right book. Now, it seems that it's just about them making a profit," said Hall.
Bradley Fenstermaker, a senior math major, said that the transition has created problems that are interfering with classes. "For one of my classes, since the bookstore only had the newest edition, the professor had to change his entire syllabus and lesson plans to accommodate the textbook students had to buy."
Students familiar with Follett from their experiences at other colleges expressed similar opinions.
"It's extremely expensive. I buy my books through Amazon and eBay," said John Little, a junior transfer business information technology major and graduate of Lackawanna College.
Garvey acknowledged that there have been some trouble spots throughout the transition and said that these and other issues will be addressed in order to better accommodate students, faculty and staff.
Diehl said that she and the rest of her staff are excited to join the Marywood community. "We appreciate the warm welcome and patience the students, faculty and staff have shown us through our transition. We look forward to building our campus relationships and delivering exceptional customer service."