Scholarship dinner recognizes student recipients, benefactors
Marywood University held its annual scholarship dinner on Sept. 30. Students who receive named scholarships and Marywood Scholars were invited to the event in order to meet the benefactors who make the scholarships possible.
Students attended a reception before the dinner where they were able to mingle with benefactors who provide money for the scholarships. After the reception, the students and benefactors had dinner and listened to speakers who represented the students and the donors.
Diane Parks, a graduate of Marywood, spoke on behalf of the benefactors and told the audience about how receiving a scholarship to Marywood impacted her life. Once she graduated from Marywood, she rose through the ranks of Janssen Pharmaceuticals to become the vice president of operations.
"My first donation to Marywood was $25 and that was a significant donation for me and now, I realize, for Marywood," said Parks. "It's just so satisfying to know that check I write has a personal side."
Nicholas Pesarcik, a junior, spoke on behalf of the students, thanking the benefactors for their generosity. He spoke of his transition from high school to Marywood and said, "I had the chance to take a fresh step into the world and create meaning in what I do."
Sister Anne Munley, IHM, president of the University, also recognized newly established scholarships. She presented recently retired faculty with scholarships that will be presented in honor of their years of service to the university.
Elizabeth Connery, the director of planned giving, said that the benefactors are wonderful people. "I can't say enough about the people who set up scholarships," added Connery.
"It's like an adoption type thing," said Dr. Clayton Pheasant, the vice president for university advancement. "It's a good feeling to be able to see the progress of a student," said Pheasant. "There's a pride that comes in being able to help a student achieve their ambitions," said Parks. "It's just so satisfying to know that check I write has a personal side."
About the Contributor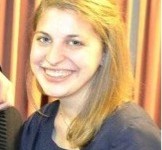 Alison Trautmann, Editor-in-Chief
NAME: Alison Trautmann
YEAR: 2012
MAJOR: English

ABOUT: Watches films all the time, writes papers (and kind of likes it) and reads lots of books,...