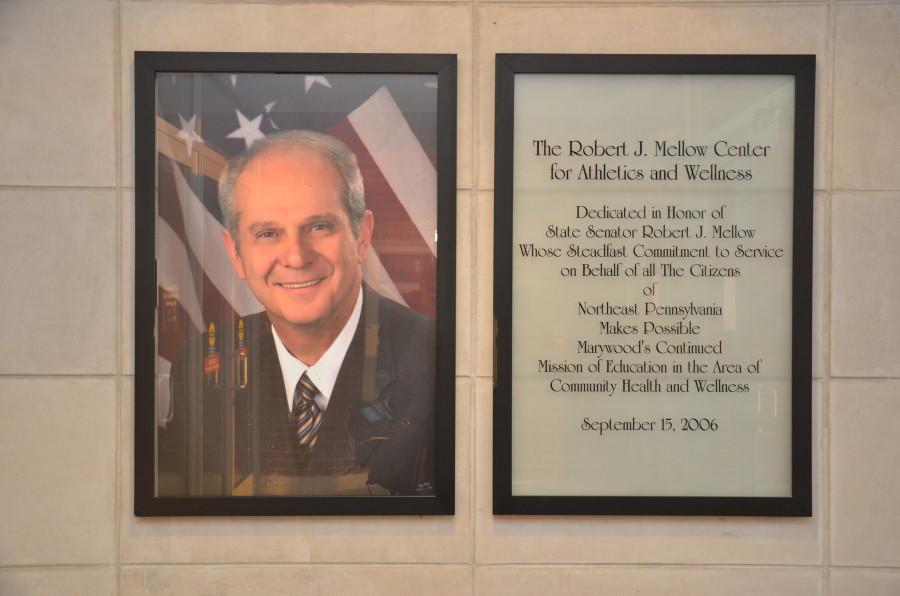 U.S. District Judge Joel H. Slomsky sentenced for- mer PA State Senator Rob- ert J. Mellow, namesake of the Robert J. Mellow Center for Athletics and Wellness at Marywood University, to 16 months in federal prison followed by three years of supervised release on Friday, Nov. 30.
The Board of Trust- ees of Lackawanna Col- lege, whose theater is also named after Mellow, voted last week to main- tain the name, accord- ing to The Times-Tribune.
Whether Marywood has any plans to re- name the Center for Ath- letics and Wellness is yet to be determined.
"Any consideration for changing this honor would be made only after compre- hensive private dialogue among Marywood Uni- versity principals," stated Juneann Greco, com- mmunications director.
Joseph X. Garvey, vice president for business af- fairs and treasurer, de- clined to comment on the matter stating that the Board of Trustees has not fully discussed the issue.
Mellow plead guilty to charges of tax evasion and mail fraud on May 9 of this year after an ex- tensive federal investiga- tion that included searches of his home and office by FBI and IRS agents. He served as the Senate Democratic leader for 40 years before announc- ing in 2010 that he would not seek an 11th term.
According to the Mary- wood website, Mellow, who was awarded an hon- orary doctorate at the uni- versity's 2002 commence- ment ceremony, secured $2 million in funding for the construction of the gymnasium that was dedi- cated on Sept. 15, 2006.
A large portrait of the former PA legislator is prominently displayed in its entranceway along with a plaque that reads in part, "[His] Steadfast Commitment to Service on Behalf of All the Citi- zens of Northeast Penn- sylvania Makes Possible Marywood's Continued Mission of Education in the Area of Community Health and Wellness."
The next Marywood Board of Trustees meet- ings are scheduled for Jan. 24-26, 2013.