Shifting demographics to affect Marywood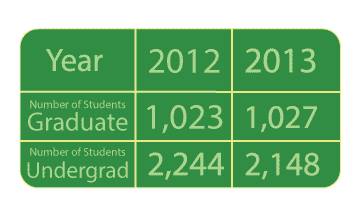 The face of the typical college student in the U.S. will soon be changing, according to statistics reported in Inside Higher Edthis past January.
According to a study by the Western Interstate Commission on Higher Education (WICHE), there will be slight decline in the number of high school graduates in the next few years. This decline is due in large part to an 11 percent decrease in the number of white high school graduates. Simultaneously, there will be a 27 percent and 45 percent increase in Hispanic and Asian American/Pacific Islander high school graduates, respectively.
These impending changes will impact the recruiting and retaining methods at institutions of higher education, including Marywood, according to Ann Boland-Chase, vice president for enrollment management.
"It does provide some exciting opportunities for us to reach out to additional populations and determine programs that those students are interested in studying," said Boland-Chase.
While racial and cultural diversity of students does have positive implications, there are also various difficulties that must be addressed, including varying levels of English-speaking ability and disengagement in the classroom environment.
Meghan Cruciani, director of academic success, said that currently all Marywood students are able to receive the same assistance with their studies. However, she does realize that in the near future, there will be a need for additional supports due to the large number of English as a Second Language (ESL) and Intensive English Program (IEP) students utilizing her area's resources, such as the Writing Center.
Assistant Director of Student Support Services, Kevin Kuna, said he has noticed a greater demand from students who struggle with fluency in English.
"There has been an increase in International and ESL speaking students, and I don't think our tutors are equipped to adequately assist these students in their speaking abilities. I think that there does have to be some kind of training that should be provided for these students besides the ESL/IEP class to help [them]," said Kuna. "Our tutoring department definitely does not have the capability of assisting these students to their full potential."
Former Associate Director of International Affairs, David Crisci, said that since he and assistant director, Nancy Maloney, created the office in 2008, they have gone from serving a handful of students to the current number, 116, with the majority of them being from the Middle East. Every year, they host a comprehensive orientation program and provide a handbook that the students can use as a reference guide.
In their effort to continually enhance the services provided for them, Crisci said they are preparing to propose a section of University 100 exclusively for international students, which will better equip them for the various challenges they will face as college students in a new country.
The university is researching various options in order to be prepared as an institution to meet the needs of these students and their families, including the implementation of multilingual university information materials concerning admissions, financial aid, and other areas on the website and in brochures for students whose parents are maybe non-English speakers. Another strategy is holding faculty forums beginning in spring 2014 to assist professors with understanding and assisting students from diverse backgrounds.
"We all have to keep abreast of the trends in higher education and be agile in changing when we feel there are changes required, and we must be able to do that efficiently and quickly so that we can be serving our students in the 2020s and beyond," Boland-Chase said.