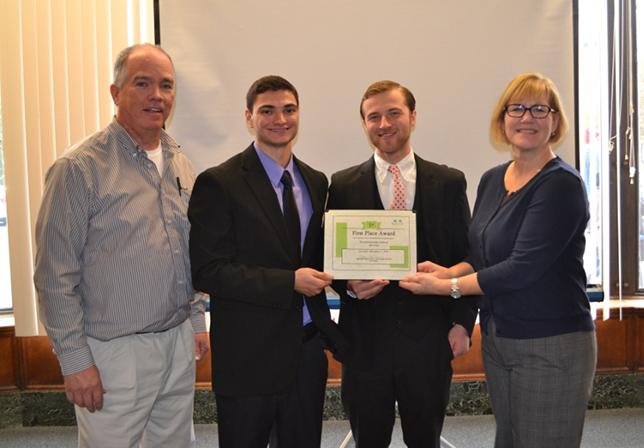 Photo courtesy of Marketing
Marywood University's School of Business and Global Innovation students placed first and second in the TecBridge Fall 2014 Entrepreneurial Institute "Business Plan Concept" competition.
The "Business Plan Concept" competition is held annually, encouraging all entrepreneurs from around the region, young and old, to participate in the competition.
The three-day program allows students to learn about building business plans, making profits, and running their own companies. On the final day, students pitch their business plans.
Chris Speicher, M.B.A, Ph.D, associate professor in the business department, has been advising the competitors for about five years.
"The turnout is always pretty good," said Speicher. "There's 14 schools that come around, so we definitely see diversity, such as engineering and science majors, who really should dominate this competition. It's always pretty stiff."
Frank Winger, junior management major, took first place in the competition. Marywood Senior Management Major, Richard Manuli, took second.
Winger's concept presentation was on his Spotlight Boards, winning a total of $200. Spotlight Boards are lighting devices used to attach onto the underside of skateboards to make boarding safer for the rider, as well as pedestrians and other drivers.
"I honestly wasn't expecting [to win]," said Winger. "The night before I was at a late-night concert. Dr. Speicher just told me that if I wanted to stop by, I could. So I did."
"I'm always awed by the quality of thought that goes into these ideas," said Speicher. "I love seeing students come to me with ideas about what they want to create. It's just like being in a candy shop for me."
Winger said he plans to compete again.
"I do plan on entering the Spring 2015 Business Plan Competition to take my concept to the next level," said Winger. "I'm very hopeful for the future. My team and I plan to make it big."
For additional information on the TecBridge Entrepreneurship Institute, email [email protected]