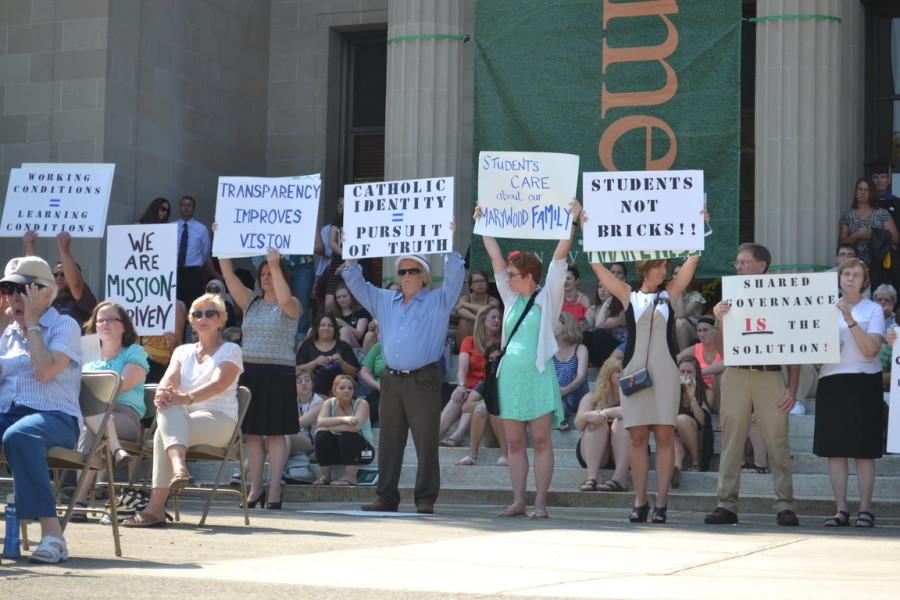 Stephanie Leone
During the dedication of the Learning Commons, several members of faculty, as well as students, staged a silent protest on the steps of Liberal Arts Center. They held signs with messages like "Excellence cannot grow in a climate of fear," and "We are mission driven."
While Sr. Anne Munley IHM, Ph.D., president of Marywood, gave remarks about the new Learning Commons, which was dedicated by Most Reverend James C. Timilin, Bishop Emeritus of the Diocese of Scranton, the protesters turned to face the crowd that was sitting on the stairs of the Liberal Arts Center.
The protest comes after last week's rash of flyers distributed by faculty on campus, aiming to expose alleged financial irresponsibility on the part of administration.
One of the protesters, Dr. Brooke Cannon, professor of  psychology and counseling and president of the Marywood American Association of University Professors (AAUP) chapter, explained that students and alumni approached her about concerns and wanted to get involved.
"We are here to celebrate Marywood's history and express concern for MU's future," said Cannon.
She said that the reason they protested was to make sure that Marywood's next 100 years "are as successful as our first."
"We believe we need socially responsible leadership and a climate of respect, and that transparency is necessary for empowerment," she said.
Sr. Anne commented on the protest, saying, "As a university, we respect the right for people to assemble and to express their opinions, but we'd like our community to know we have structures in place for discussion. … but today is about the celebration of our centennial and of our future."
Cannon said faculty have used those structures, which include Faculty Senate, and reached out to administration last spring. They are still waiting for a response, she added.
Megan McDonnell, senior English major, said she participated in the protest out of concern for Marywood's future. "It's the institution I've dedicated myself to for the last four and a half years; I care about the future of the university," she said. Dr. Bill Conlogue, associate professor of English and member of the AAUP, was also a protester. Conlogue has been at Marywood for 20 years and is a tenured professor, and said his position gives him "more security" to speak up.
"I feel responsibility; it is part of what being tenured is about," he said.
Conlogue said he hopes it opens up more of a conversation about what is happening at Marywood.
Dr. Samantha Christiansen, associate professor in social sciences, did not participate in the protest, but said she found the demonstration "interesting."
"I think in many ways this captures the spirit of everything we've been talking about all morning," she said.
In addition to the Marywood faculty and students, Dr. Valerie Kepner, associate professor of economics, and Noreen O'Connor, associate professor of English literature, two professors from King's College in Wilkes-Barre, also participated in the protest to "stand in solidarity."
Students had mixed reactions to the protest. While some commended the protesters for their actions, others felt the protesters acted disrespectfully.
Senior Peace and Social Justice major Lisa Patmos said she was proud of the protesters.
"I think it's really inspiring that the Marywood community is coming together not to protest against Marywood or drag Marywood down, but to say that Marywood is great, and it could be so much greater and that there are things to be addressed. I'm proud to be part of such a progressive community, that allows that to happen," she said.
Sophomore Music Education and Performance major, Teresa Izzo, did not agree.
"I understand why they could've been upset, but I do not think it was appropriate for [the protest] to happen," Izzo said.
One member from the Board of Trustees, Mr. Lee DeHihns, senior counsel at Atlanta-based law firm Alston & Bird LLP, said that the board is aware of faculty's concerns, and that they are "working on it." "The board is taking a very thoughtful, careful look at all of that," he said.
Cannon emphasized the protest was not to shine negative light on the university, but to open up a discussion between administration and the rest of campus.
"We are speaking up for a better Marywood," Cannon said.
Amanda Duncklee, Patrick Kernan, Paul Capoccia, and Bethany Wade contributed to this report.
Contact the writer: [email protected]