A closer look: Goldstein's Strategic Resource Allocation process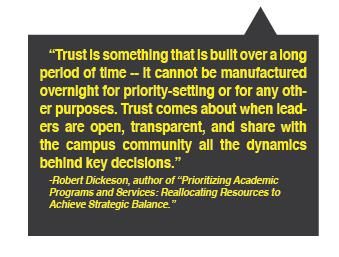 On Sept. 16 and Sept. 17, Larry Goldstein, founder of Campus Strategies, LLC, held three open meetings for faculty and staff about beginning a strategic resource allocation process at Marywood.
Goldstein's consulting firm was hired by Marywood to embark on this resource allocation process, which is set to save Marywood some of its spending by reducing the amount of money designated to certain programs. According to Sr. Anne Munley, IHM, Ph.D, President of Marywood University, there is no single "magic number" as a goal for how much money to save.
Goldstein defines strategic resource allocation process
On Goldstein's Campus Strategies' website, strategic resource allocation, or program prioritization, is listed as a client service and states that many institutions are investing in programs that are not necessary for an institution's success.
According to the website, "Using holistic criteria, Campus Strategies can facilitate a proven process for the comprehensive examination of every campus activity to identify those that should be reduced or discontinued."
The website states that this strategic resource allocation process has been implemented at dozens of institutions and has succeeded in response to financial crisis or data-based decision making to affect future resource allocation.
Specifically, Campus Strategies strategic resource allocation process proved to be successful at the University of Hartford.
According to Campus Strategies' website, the process at the University of Hartford incorporated "extensive research as well as the review of financial records, correspondence, agreements, and various University documents to formulate opinions about the University's practices."
Campus Strategies utilizes Dickeson model 
Institutions embarking on Campus Strategies' strategic resource allocation process utilize a model created by Robert Dickeson, president emeritus of University of Northern Colorado and author of "Prioritizing Academic Programs and Services: Reallocating Resources to Achieve Strategic Balance."
Dickeson's process is described in a paper titled "Higher Ed Impact Monthly Diagnostic May 2015," which a was authored by Dickson and Goldstein and published by Academic Impressions, an affiliate of Campus Strategies and an organization focused on serving higher education professionals.
The paper details Dickeson's ten criteria for prioritization, the model Campus Strategy uses for its strategic resource allocation process.
According to the paper, Dickeson's ten recommended criteria for evaluating academic program prioritization include:
The history, development and expectations of programs;
The external demand for a program;
The internal demand for a program;
The quality of program inputs and processes;
The quality of program outcomes;
The size, scope, and productivity of the program;
The revenue and other resources generated by the program;
The costs and other expenses associated with the program;
The impact, justification, and essentiality of the program;
And the opportunity analysis of the program.
In the paper, Goldstein and Dickeson suggest there are two main areas, leadership and process, that can affect the success of the prioritization process.
The paper describes how senior leaders need to have the will to follow through with the implementation of the prioritization process and provide reasons why the process is necessary to the institution. The re-prioritization process itself needs broad participation from faculty and administrators and a clear communication system about goals and data gathering.
To help with this communication system, Dickeson recommends establishing a communication plan incorporating town hall meetings, updates via e-mail, regular meetings, and open hearings.
The paper stated, "The process is rigorous-requiring that institutional leaders define and weigh clear criteria for prioritization, gather and make sense of copious institutional data, and establish specific recommendations for change."
Level of trust affects re-prioritization
Another important aspect of a re-prioritization process is the issue of trust. The paper stated trust will make or break the success of a prioritization effort.
Goldstein suggested two steps to assess the level of trust at an institution. He recommended interviewing key community stakeholders and secretarial staff.
In the presentation, Goldstein said secretarial staff "knowwhat is going on in ways that no one else does."
An article on Academic Impressions' website titled "Prioritize Academic and Administrative Units" by Daniel Fusch, director of Publications and Research, included an interview with Dickeson regarding prioritizing academic units.
In this interview, Dickeson commented on the importance of trust and stated, "Trust is something that is built over a long period of time,it cannot be manufactured overnight for priority-setting or for any other purposes. Trust comes about when leaders are open, transparent, and share with the campus community all the dynamics behind key decisions."
Another article on Academic Impressions' website, "Planning and Budgeting in a Low-Trust Environment," by Fusch, states that during a 2011 Academic Impressions conference on "Integrated Strategic Planning and Resource Allocation," 37 of the attendees, nearly 75 percent, cited low trust as one of the main obstacles in the re-prioritization process.
The article offered comments by Goldstein and Pat Sanaghan, president of the Sanaghan group, another consulting firm, on strategic planning in a low-trust environment.
According to the article, during a period of low-trust,campus officials and staff often are more focused on daily events and issues, instead of the future of the university as a whole.
AAUP criticizes Dickeson model 
However, the procedure, and ones similar to it, do not come without their critics.
For example, the American Association of University Professors, or AAUP, has major criticisms of Dickeson's model, off of which Goldstein's model is heavily based.
AAUP's website provides numerous documents about AAUP investigations of retrenchment procedures at various universities.
Two examples of universities that used Dickeson's model to apparent failure in the eyes of the AAUP include the University of Southern Maine and Felician College, a private Catholic college in northern N.J.
Both institutions used Dickeson's model and, according to the AAUP, inappropriately terminated professors as a result of going through the process.
According to the AAUP, in 2014, the University of Southern Maine terminated the appointments of "approximately twenty to thirty tenured as well as longserving non-tenured faculty members."
Similarly, in 2014, Felician College notified 16 professors that their appointments would not be renewed. According to the AAUP,  the college cited "the exigency of the college's financial status" as the reason. However, when the process first began, administrators at Felician did not use the term "financial exigency" and instead cited trouble with low enrollments.
At one of Felician's first town-hall style meetings before the re-prioritization process began in 2013, "Administrative officers told faculty members that the situation was worrisome but did not share any concrete information or financial data," said the AAUP report. "The possibility of faculty layoffs was not mentioned, and the term financial exigency was never used."
However, nearly six months after the re-prioritization process began, 16 full-time faculty members at Felician received notice that their appointments would not be renewed at the end of the academic year. 
In its findings about both institutions, the AAUP cited the 1940 Statement of Principles on Academic Freedom and Tenure, which states, in part, that financial exigency that leads to termination must be "demonstrably bona fide."
The AAUP asserted that the institutions did not sufficiently demonstrate this.
Goldstein process begins at Marywood:
The first steps of the process at Marywood University are beginning, with task forces being personally trained by Goldstein. For more information on the process, including a detailed list of members of the task forces and a selection of university community opinions, see:

Contact the writers:
[email protected]
[email protected]