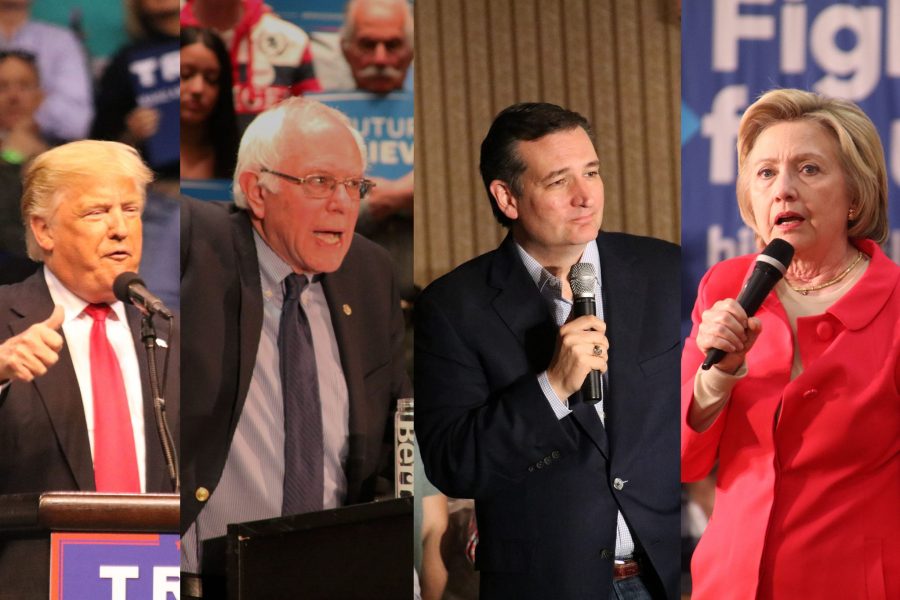 Election season is heating up here in Northeastern Pennsylvania. With the Pennsylvania primaries taking place on April 26, candidates from both parties have followed the campaign trail through the area.
The candidates all touched on how important Pennsylvania is during the primaries this election year.
Vermont Senator Bernie Sanders was the first to stop in Scranton, hosting a town hall at the Scranton Cultural Center on Thursday, April 21.
"I think that Scranton is ready for a political revolution," Senator Sanders said as he opened his rally.
Among addressing issues like the cost of higher education and corporate taxes, Senator Sanders called on the crowd to "create the largest voter turnout in PA history."
While Senator Sanders touched on many of his usual talking points, he also addressed issues that specifically resonate with some voters in Northeastern Pennsylvania, such as his desire to stop fracking.
The following day Republican Senator Ted Cruz of Texas made three stops in Pennsylvania on April 22. Senator Cruz began in Williamsport, followed by a stop in Scranton and Allentown.
The Cruz campaign hosted a rally at the Radisson Lackawanna Station Hotel where Senator Cruz emphasized the importance of Pennsylvania in this election.
"The entire country is looking to Pennsylvania," said Senator Cruz. "Pennsylvania has a platform to speak to the country … [to show] what path we want the [Republican] party to go down, what path we want the country to go down."
Senator Cruz encouraged the crowd to spread the word about the primary election and additionally get others to vote.
Lynn Kokinda of Moosic attended the Cruz rally and believes Pennsylvania's delegates will play an important role in this election.
"Every delegate is important right now and Pennsylvania has a lot of delegates," said Kokinda. "[Pennsylvania] has a lot of uncommitted delegates and that's why it's very important the people show who they want by their vote."
In addition to Senator Cruz's rally Friday afternoon, former Secretary Of State Hillary Clinton also hosted a rally at Dunmore High School to a crowd of 1,200. Secretary Clinton spoke about growing up in the area and what she would do for Northeastern Pennsylvania.
"This place has a lot of- not just memories- but special meaning to me," said Clinton. "The thing I want you to know, more than anything else, is I will work my heart out for the people here in Northeastern Pennsylvania."
Clinton stressed the importance of infrastructure and manufacturing jobs in the region.
"When I think about infrastructure, I think about good jobs, jobs that can't be exported, jobs that put people in this area to work," said Clinton. "And we're going to also look to see what we can do in advanced manufacturing because I believe we can still make it in America, and we're going to find ways to do that."
Tyler Ryan of Wilkes-Barre feels Secretary Clinton is the most qualified candidate and was excited to see her in town.
"She knows every single aspect of government and how government works, and that's what makes her the most qualified," said Ryan.
Wrapping up campaign stops in the area the day before the Pennsylvania primary, Donald Trump hosted a rally at the Mohegan Sun Arena on April 25 in Wilkes-Barre.
Trump spoke about Pennsylvania job loss, specifically the losses Scranton suffered.
"The Scranton region lost half of its manufacturing jobs since 1990," said Trump. "Our region here lost 6,000 manufacturing jobs since the recession in 2007."
In his speech, Trump also mentioned his family's ties to the state. Trump, his children, and his wife all went to school in Pennsylvania.
"I guess I'm a product of Pennsylvania, I love Pennsylvania," said Trump.
Trump talked about his policy ideas, including tax breaks, "terminating" the Affordable Care Act, and immigration reform.
Among the supporters was Kay Sunday who explained her reasons for supporting Trump.
"Because we want to clean out the White House period. We need new blood," said Sunday. "We need a new president. Somebody who doesn't have to pay lobbyists and [Trump is] not a politician."
Trump called on the crowd to vote for him in the primary election.
"You're going to represent that great state of Pennsylvania, which I love and which I know very well," said Trump.
The arena was completely filled with more than 10,000 estimated attendees at the rally.
According to Trump, 6,000 people were waiting outside the arena, unable to get inside. WNEP, by contrast, reported the number closer to 150.
Republican candidate John Kasich did not stop in the Northeastern Pennsylvania region, with the only scheduled Pennsylvania rally in Allegheny County.
Rachel Looker and Patrick Kernan contributed to this article.
Contact the writers: [email protected], [email protected], [email protected], [email protected]