Developer shares plans for Marywood South Campus
A Los-Angeles based developer has new plans for the former Scranton State School for the Deaf, also known as Marywood's South Campus property, located on 1800 N. Washington Ave.
Urban Smart Growth, a real estate development and management company, recently signed an option and purchase agreement for South Campus on Jan. 3.
The company revitalizes old and historic buildings and has worked on 54 properties in six states, according to its website.
Founder and CEO of Urban Smart Growth Lance Robbins said he discovered the South Campus property through a mutual friend.
"I met a Scranton resident who told me she wanted to do real estate and would like to find somebody to work with," Robbins said.
He sent his Chief Operating Officer Aaron Iskowitz to Scranton, who first discovered the property. Robbins said Iskowitz described the property as having Urban Smart Growth's name "all over this project."
"This fits perfectly with what we do," Robbins said. "We're somewhat anomalous as far as real estate developers go, so this fits because it's an anomaly."
Paying for the property
Robbins said there needs to be another layer of income to justify the cost of renovating South Campus. He added that the income from new residential spaces would not be enough to justify the cost of the entire remodel.
To justify this cost, he explained that Urban Smart Growth owns all bars and restaurants in their properties and does not lease them out to a third party.
"You got to have something, ancillary use, and our experience with bars, restaurants, events, wedding [and] music is so positive that we think that will kick it over the top," Robbins said.
Vice President for University Advancement Renee Zehel said there is an itemization in the state capital budget deal for South Campus. The project authorization is filed through the Redevelopment Assistance Capital Program, a commonwealth grant program by the Pennsylvania Office of the Budget for the construction of improvement projects, according to Pennsylvania's Office of the Budget website.
Marywood put in a request for $3 million for the South Campus renovation project on Nov. 1, 2013, according to the website.
Zehel said this is a request for funding and the fund has to be matched at 50 percent non-state money. A committee makes the selection process during the funding round and if approved, the governor releases the funds.
Robbins said Urban Smart Growth is prepared to match the $3 million.
Plans for the property
According to Robbins, the property has many positives including a location in a "fabulous neighborhood" and a location next to a university. He added that the buildings are in good condition for the property's age.
Robbins said he had to give a lot of thought and imagination to the South Campus property because it is nine separate buildings. He referred to past experiences renovating different properties, specifically in Pawtucket, Rhode Island and Columbus, Ohio.
"Urban Smart Growth builds demand for its real estate by building communities," Robbins said. "Most developers go to demand, we create demand."
Robbins plans to renovate the nine buildings that make up South Campus into spaces for residents as well as a location for music venues, a restaurant, a bar, farmer's markets and wedding receptions.
Until Urban Smart Growth owns the property, Robbins said the company will be doing investigatory work.
"There will be hearings about zoning. [There will] be plans being generated," he said. "We'll spend a couple hundred thousand dollars just checking the place out."
Robbins said he anticipates the project will be completed around 2020. Until then, he needs to consider the details of renovating the space and look into the capacity of local contractors.
Developer meets with Green Ridge neighbors
Urban Smart Growth met with Green Ridge neighbors on Marywood's campus on Saturday, Feb. 10. According to Robbins, about 100 people were at the meeting.
According to the Scranton Times-Tribune, community members asked about how the property may impact traffic, parking and property values. Robbins said he was not deterred by the neighbors' feedback.
"I think we addressed most of their issues," Robbins added.
He said he thinks the renovated property will become a community clubhouse. Most have been positive about the plans for the property, except for some locals in the neighborhood, according to Robbins.
"I think this quiet neighborhood would like a little bit more life than its got," Robbins said.
President of the Green Ridge Neighborhood Association Mark Seitzinger could not be reached for comment.
Community members can complete a feedback survey through Urban Smart Growth to share their thoughts on the plans for the property.
Potential impacts on Marywood community
Robbins said the South Campus renovations will specifically benefit the Marywood community.
"I've heard a lot of comments about the fact that food and beverage at Marywood is a little bit limited," he said. "It'll get much more abundance and varied over here."
He added that there will be a more eclectic mix of entertainment as well as a swimming pool and basketball court for Marywood students.
Robbins explained that mentorship is important to him and he plans to propose ideas for student mentoring opportunities to Marywood President Sr. Mary Persico, IHM, Ed.D. He said there's a "real possibility" of Marywood students doing internships at the renovated property.
Robbins has already recruited Joshua Berman, a graduate interior architecture student, to work at Urban Smart Growth as an associate and help with the South Campus project.
Berman said Urban Smart Growth approached him as the only interior architecture graduate student and were impressed with one of his projects.
"To be able to see a project like this from start to finish on a real-life scale versus the conceptual in the studio has been invaluable," Berman said.
Robbins said Marywood architecture students gave him inspirational ideas for the property, specifically those in Clinical Instructor in the School of Architecture Maria MacDonald's fourth-year adaptive reuse studio.
MacDonald said the studio always takes existing buildings in the community and re-imagines them. This year, they looked at the South Campus property.
Fourth-year Interior Architecture Student Danielle Rill said her class did demographic research to decide what could fit in each of the nine buildings to best benefit the community. Each student selected a building and had to determine what the building would become, said MacDonald.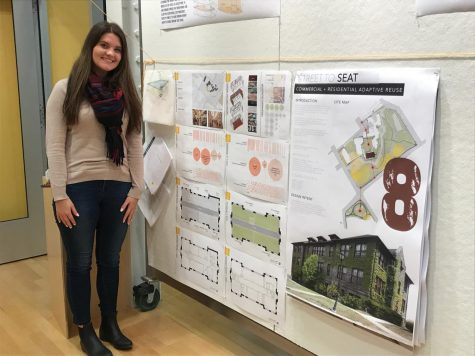 MacDonald invited the realtor to the studio's reviews and was told a potential buyer was thinking of doing the same things with a renovation project. The realtor asked to show their work to Robbins.
"It just happened that we put a bunch of our drawings up on Google Drive and one of the developers was interested," MacDonald added.
She said Robbins unexpectedly came to the studio's final reviews. Students pitched the ideas they came up with in class and according to Rill, Robbins got new ideas from the students' pitches, especially because of the research they had done in the community.
He said the students shared the information they gathered in an hour and half design presentation which made it a "very, very productive process."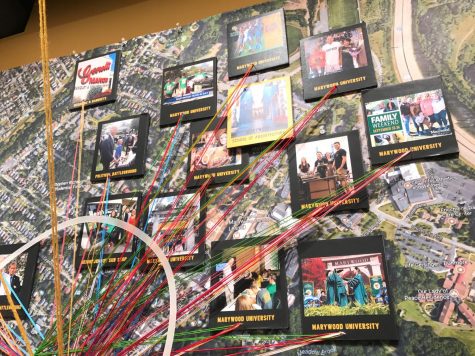 Rill said Urban Smart Growth has visited their studio numerous times to give lessons and ask for feedback.
"I think that the students are getting a real world… experience in adaptive reuse, meaning financially what it takes to do this, structurally what it takes," MacDonald said about students getting to speak with Robbins.
The interior architecture master's program, which was tabled for the 2017 to 2018 academic year, is coming back, according to MacDonald. Students in the master's program will continue to look at existing structures in the community to try to revitalize them.
MacDonald added that she is amazed at how this all happened for her fourth-year architecture students.
"I think that she [Persico] was very careful and still is very careful in how to make sure it is the right for this community," she said in regard to the renovation deal with Urban Smart Growth.
Robbins added that Persico likes to reach out to the community, which creates "natural synergisms" between Marywood and Urban Smart Growth.
He said working with Marywood's administration has been "great."
"I mean half the reason I'm still standing here is the kind of reception I got," he said.
Contact the writer: [email protected]
Twitter: @RLookerTWW